16-year-old trans teen Stella Keating bravely testifies against hate in the Senate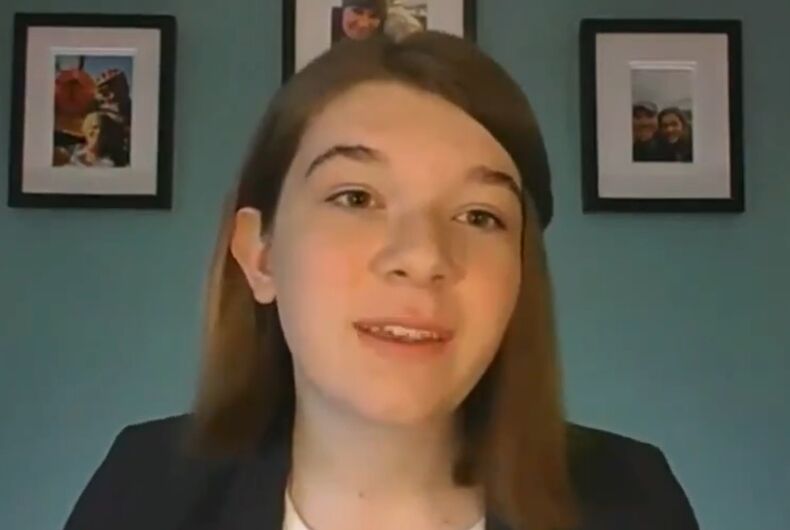 Stella KeatingPhoto: Screenshot
Stella Keating, a transgender high school student, spoke before the Senate Judiciary Committee, bringing an authentic voice to the Equality Act debate.
"What happens if I want to attend college in a state that doesn't protect me?" she said. "Right now, I could be denied medical care or be evicted for simply being transgender in many states. How is that even right? How is that even American?"
Related: GOP Congresswoman calls Equality Act "supremacy of gays, lesbians & transveshikes"
Today, the Judiciary Committee held a hearing on the landmark LGBTQ civil rights legislation, which would add sexual orientation and gender identity to federal civil rights legislation.
The debate on LGBTQ rights in the U.S. has largely focused on transgender youth, and the Republican elected officials and witness who testified today were no exception.
They zoomed in on school sports, making wild claims that cisgender boys will pretend to be trans in order to steal scholarships. Others demonized trans girls and women, saying that they will attack cis girls and women if they can use the restroom of their gender.
For most of them, it was like they had never met a transgender person before.
Enter Keating, who bravely testified before a group of adults, many of whom have made entire careers out of demonizing people like her.
"Good morning. My name is Stella Keating and my pronouns are she/her," she said in her opening statement, which she delivered remotely due to the pandemic.
"I am 16-years-old, and I live in the state of Washington. I am a sophomore in high school and just got my driver's license which was a great day!"
She explained that she has support from her family and her community, but she's still worried about the discrimination she may face for the rest of her life.
"Right now, I live in a state where I have equal protection under the law. And as a high school sophomore, I'm starting to look at colleges," she said. "And all I can think about is this: less than half of the states in our country provide equal protection for me under the law."
"What if I'm offered a dream job in a state where I can be discriminated against? Even if my employer is supportive, I still have to live somewhere. Eat in restaurants. Have a doctor," she said. "And why am I having to worry about all of this at the age of 16?"
"Hi, I'm Stella, and I'm transgender. I'm here before you today representing the hundreds of thousands of kids just like me who are supported and loved by their family, friends and communities across the country." pic.twitter.com/gFwqlATmTf

— Human Rights Campaign (@HRC) March 17, 2021