70% of voters support the Equality Act even as Senate Republicans try to stop it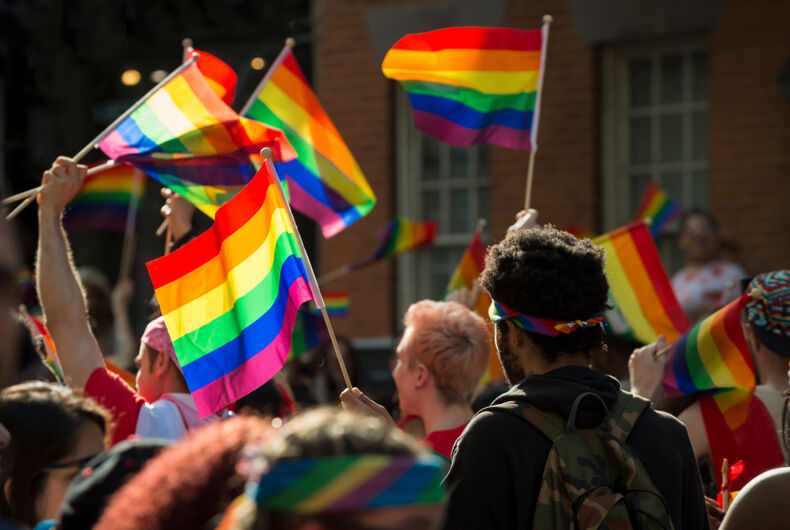 Scene from Pride in NYCPhoto: Shutterstock
A new poll found that 70 percent of voters support the Equality Act, the landmark legislation that would add sexual orientation and gender identity to existing federal civil rights legislation.
In a poll conducted by HRC and Hart Research Associates, 1007 voters were read a long description of the bill and 41 percent said that they strongly support the bill and just 30 percent oppose it.
Related: Americans like trans soldiers more than they like Trump, poll finds
The bill is even popular when broken down to its components. One part of the bill expands the definition of a "public accommodation" in federal law so that existing protected categories – race, religion, sex, etc. – get further legal protections against discrimination in businesses and federal programs. Eighty-four percent of respondents supported that.
The bill also protects against discrimination based on perceived sexual orientation, and 79 percent of people supported that.
The core of the bill – adding sexual orientation and gender identity to federal civil rights law – got 77 percent support.
Even the part of the bill that says that businesses and organizations can't use religious beliefs as an excuse to discriminate against LGBTQ people got support from 70 percent of people. This is one of the two main points of contention Republicans and their witnesses brought up in the Senate Judiciary Committee hearing yesterday, and it turns out it's something the broader public is not concerned with.
The other main objection Republicans focused on when attacking the Equality Act is transgender girls participating in school sports. This isn't a specific provision in the bill, but it stems from adding gender identity to the federal ban on discrimination in schools.
Thirty-eight percent of respondents supported trans youth participating in sports as their gender, and 34 percent opposed it. The rest didn't have an opinion.
But the vast majority of respondents said that they believe transgender people "should be able to live freely and openly" (85 percent), that trans people should have equal access to health care (92 percent), and that transgender youth should have access to to puberty blockers as prescribed by a doctor (69 percent). Republican lawmakers in several states are attacking the last one.
The results for supporting the Equality Act as a whole were separated by demographics. Democrats (88 percent) and independents (74 percent) support the Equality Act, and Republicans were divided evenly (50 percent).
A majority of all age categories supported the bill, but people ages 35 to 49 showed the most support (74 percent) closely followed by people ages 18 to 34 (72 percent). But even people over the age of 65 supported the Equality Act (67 percent).
Black people (81 percent) were more likely to support the Equality Act than white people (67 percent) and Hispanic people (76 percent).
Even 50 percent of white evangelicals said they support the bill.
Part of the difficulty of pushing for the bill is that a lot of people just assume that it's already illegal to discriminate against LGBTQ people under federal law. This has been exacerbated in the past year because there are some protections under federal law, like the Supreme Court's Bostock decision which said that job discrimination against LGBTQ is already illegal under Title VII's ban on discrimination "because of sex" and President Joe Biden's executive order that extended that reasoning to other areas of the law.
But those protections lack the breadth of the Equality Act and could be overturned by future presidents or Supreme Court justices.
A majority (57 percent) of people believe that LGBTQ people are at least "somewhat" protected under federal law. Twenty percent of people incorrectly said that LGBTQ people are "totally" protected under federal law and 37 percent said "somewhat."
"In poll after poll, we see that Americans overwhelmingly believe that LGBTQ people should be able to live free from fear of harassment and discrimination by guaranteeing the same federal anti-discrimination protections that other Americans have enjoyed for decades," said HRC President Alphonso David in a statement.
"The Equality Act is supported by a bipartisan majority of voters, the business community, faith and civil rights leaders, and communities in virtually every corner of the nation. It's time for the Senate to catch up to the American public and finally pass the Equality Act so that all Americans can be treated equally in the eyes of the law."