A coalition of hate groups are coming together to try & stop the Equality Act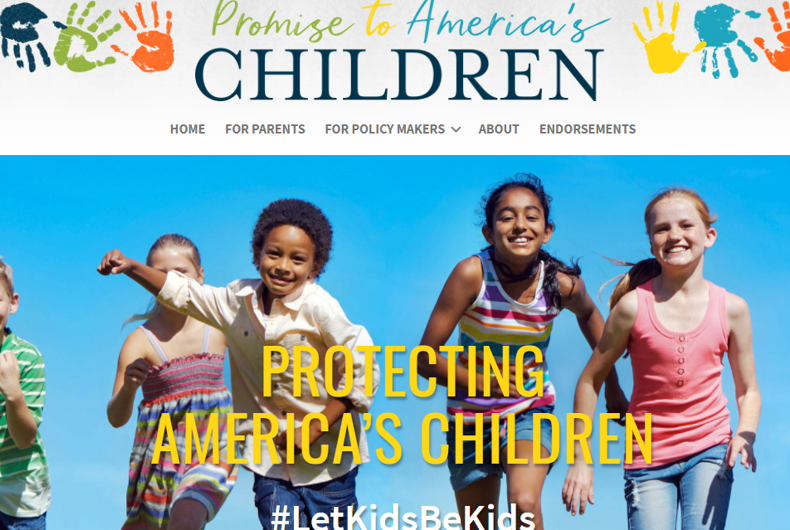 A screenshot of the "Promise to America's Children" websitePhoto: Screenshot
A group of anti-LGBTQ organizations have created the Promise to America's Children coalition that explicitly aims to prevent the Equality Act from passing.
The new organization asks people to join the "Promise Movement" so they can pledge "to protect our children, both personally and in the public square" from pro-LGBTQ discrimination protections. It even provides "model legislation" for policy makers across the country.
Related: How drag queen story hour & a boatload of money launched Marjorie Taylor Greene's political career
The Promise to America's Children is made of the SPLC-designated hate group Alliance Defending Freedom and conservative think tanks Heritage Foundation and the Family Policy Alliance. It has the support of other hate groups such as Focus on the Family and Family Research Council (FRC), and other anti-trans groups such as the Concerned Women for America (CWA) and Partners for Ethical Care (PEC).
They claim that passing the Equality Act "would pave the way for sexualized curriculum across the nation" in the form of "government-sponsored initiatives at the federal, state, and local levels.
Dartmouth history professor Bethany Moreton noted to NBC News how this is intentionally reminiscent of the "Save Our Children" rhetoric employed by anti-gay activists for years, most notably Anita Bryant in the 1970s. This messaging tactic was also recently employed by supporters of the QAnon conspiracy theory.
The model legislation offered on the organization's website must be requested directly. Emily Kao, an attorney at the Heritage Foundation, declined to provide details to NBC News about what it may entail.
The Alliance Defending Freedom and Heritage Foundation are two of the organizations that have fueled the recent push to pass anti-trans legislation across state legislatures.
"These bills are intended to look constituent-led, but we know it's driven from these centralized groups," Chase Strangio of the ACLU told NBC News said when he appeared on the LGBTQ Nation podcast this week to discuss the anti-transgender legislation.
Many of the bills have similar titles, like Georgia's "Vulnerable Child Protection Act" and Alabama's "Vulnerable Child Compassion and Protection Act."
Most of them target transgender youth and would ban transgender girls from playing sports, criminalize doctors who provide gender-affirming care like puberty blockers to trans youth, or require schools to out trans kids to their parents if they ask to go by certain pronouns.
Some of the principles the Promise to America's Children claims to support are "affirmation of one's biological sex," "protection of the parent-child relationship," "safety and privacy in single-sex spaces," and "fair sports competition for girls."
However, the legislation that the organizations behind the coalition are pushing would do exactly that — alter how sports are conducted in schools and other government-funded associations, and take away the privacy of children to try and prevent non-cisgender children from using the bathroom or participating in gendered activities, even going as far as to set up panels or genital exams of children to ensure compliance.
The Heritage Foundation claims laws that protect LGBTQ Americans from discrimination based on their sexual orientation and gender identity are unjustified, saying those laws "do not protect equality before the law; instead, they grant special privileges."  Transgender people have been specifically targeted, based on the group's claim that "[W]e are created male and female and that male and female are created for each other.
Dozens of former employees went to work for the Trump administration, flooding the government with religious right evangelicals determined to remake the United States into their image.
The Heritage Foundation is the organization that Mike Pence is heading to in his post-Vice Presidency as a visiting fellow. Far-right Supreme Court Justice Amy Coney-Barrett was also highly recommended by the Foundation. Her sparse background was noteworthy for its hardcore opposition to LGBTQ civil rights.