A doctor diagnosed this Michigan mom with "ego-dystonic lesbianism"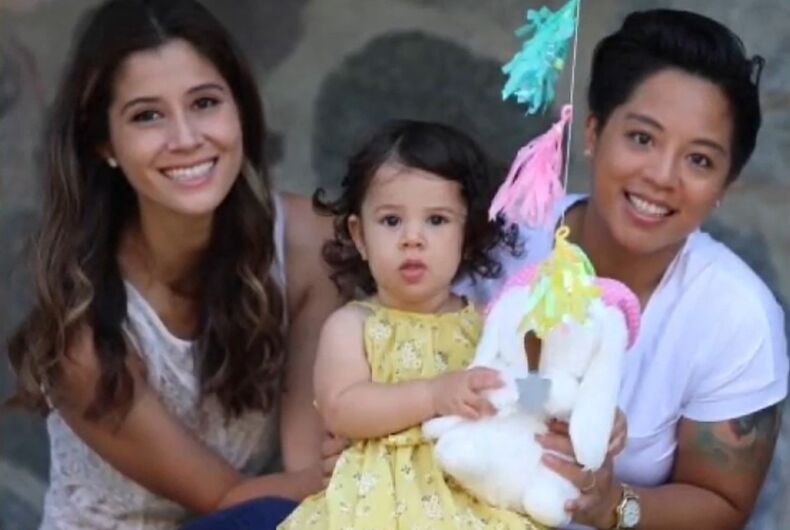 Tatiana Arena-Villareal and her wife and child.Photo: Screenshot/Fox 2 News
A woman in Michigan found out that her doctor diagnosed her with "ego-dystonic lesbianism" at a recent appointment. Ego-dystonic homosexuality is an outdated diagnosis that reflects "a desire to change one's orientation" that medical organizations like the American Psychological Association have opposed for decades.
"I don't want this to happen to anybody else," Tatiana Arena-Villareal told Fox 2 News after she saw the diagnosis on her chart. "I don't want anybody to have a diagnosis in their chart that suggests they have a mental illness because of who they love."
Related: How homosexuality stopped being a disease
Arena-Villareal said that she was troubled because she didn't even discuss her sexuality with her doctor.
She said that she went to her doctor in Troy for a routine checkup, along with her wife and their six-month-old baby. She had her checkup and then her wife did with the same doctor.
She didn't think that her doctor had discriminated against her until she checked her chart online later.
"I went to my chart and I looked at my last year's results and saw I was diagnosed with ego-dystonic lesbianism," Arena-Villareal said. "It's a discriminatory diagnosis, and that was deemed over 30 years ago."
Arena-Villareal contacted local media and after some calls, her doctor called her back on Monday and apologized.
"She said, 'I can remove this if you want me to,' and I said, 'Of course I do. This is not something that exists anymore and it's not something I want to follow me throughout my life,'" Arena-Villareal said.
Still, she hopes that this will be a wake-up call.
"This just shows there is still a lot of work to do," she said.
The diagnosis was added to the third edition of the Diagnostic and Statistical Manual of Mental Disorders (DSM-III) in 1980. It doesn't say that being gay or bi itself is a disorder, but that "having a sexual orientation or an attraction that is at odds with one's idealized self-image" is. It's characterized by anxiety and "a desire to change one's orientation or become more comfortable with one's sexual orientation." It was removed in 1987.
The World Health Organization (WHO) had the same diagnosis and said that it means "the individual wishes [their sexual orientation] were different because of associated psychological and behavioral disorders, and may seek treatment in order to change it." The WHO started the process to remove the diagnosis and it is expected to be out in the 2022 edition of the International Statistical Classification of Diseases and Related Health Problems (ICD).
If that sounds familiar – gay people aren't all disordered, but some want to become straight and psychologists should help them – that's because it's how conversion therapy practitioners defend what they do. It makes it sound like they're defending freedom of choice when they fight against conversion therapy bans, even though minors and some LGBTQ adults don't have much of a choice in the matter.
Sexual orientation can't be changed through therapy and conversion therapy actually increases anxiety, depression, and suicidal thoughts, which is why mainstream organizations like the APA oppose conversion therapy.