A documentary on Pete Buttigieg's historic presidential campaign is coming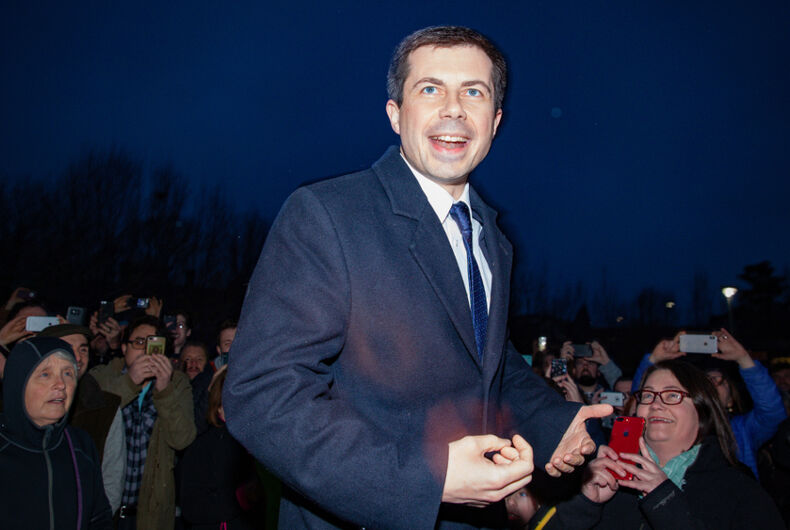 Pete Buttigieg smiles while surrounded by supporters.Photo: Shutterstock
Amazon Studios has announced it has acquired the distribution rights to the documentary called Mayor Pete, putting the film on track for release in the coming months.
The documentary was filmed during Secretary of Transportation Pete Buttigieg's historic campaign as one of the first major out candidates for president, before he was nominated and confirmed as the first out Cabinet secretary.
Related: Pete Buttigieg opens up about being the youngest Cabinet member & a queer Christian
Mayor Pete "will show Buttigieg at home in Indiana with his husband, Chasten, and go inside the campaign's early days as well as Buttigieg's historic, contested victory in the Iowa caucuses," Variety reports.
Buttigieg, nicknamed as "Mayor Pete" during his two terms as mayor of South Bend, Indiana became a household name in 2019 as the first out Democrat to run for president. He consistently stayed in the primary competition's upper ranks entering 2020, even as he faced issues that would have ended the political careers of others.
Even at the end of his campaign, when he withdrew his candidacy for the nomination on March 1, he was still one of the top performers out of a massive field of more established candidates. Ultimately though, Buttigieg forced our society – and many around the world – to seriously consider having a gay head of state. Now a documentary will immortalize the history-making run.
Buttigieg ultimately navigated the public exposure that his campaign brought with his husband, Chasten, by his side. He went on to become a fierce advocate for the Biden/Harris campaign, all of which earned him the 2020 LGBTQ Nation Newsmaker of the Year accolade, among others.
On February 2, the Senate confirmed him as Secretary of Transportation by a bipartisan vote, and he was sworn in by Vice President Kamala Harris, with Chasten at his side.
The film was directed by Jesse Moss, who most recently co-directed the Apple TV+ documentary Boys State about up-and-coming teen politicians in the state of Texas. Boys State was the Grand Jury Prize winner at the 2020 Sundance Festival, and sold distribution rights for a record $12 million to Apple and A24 Films.
Moss is known for his interpretation of cinéma vérité, or observational filmmaking, meaning he rarely uses narration or commentary to dictate the narrative in his documentary films. He previously worked in politics as a speechwriter and was a former staff member of former Rep. Vic Fazio (D-CA) in Washington D.C. before leaving in the 1990s.
In 2004, he explored politically conservative members of Hollywood who feared ostracization and discrimination in the documentary Rated "R": Republicans in Hollywood. It featured Drew Carey, Pat Sajak, and Vincent Gallo, among others.
Amanda McBaine, the other co-director of Boys State, produces alongside Moss. Story Syndicate, founded by Dan Cogan and Liz Garbus, is the production company behind the film and executive produces alongside Regina K. Scully.
Cogan won an Academy Award for Best Documentary Feature in 2017 for Icarus released via Netflix. Garbus co-directed All In: The Fight for Democracy (2020), the documentary on former Georgia gubernatorial candidate Stacey Abrams, that also was acquired by Amazon Studios. Scully made possible documentaries such as Won't You Be My Neighbor? (2018) on Fred Rogers, Knock Down the House (2018) on political progressives such as Alexandria Ocasio-Cortez and Cori Bush, and Ruth: Justice Ginsburg in Her Own Words (2019) on the eponymous late Supreme Court justice.
Both All In and Boys State are on the shortlist for documentary nominations at the 2021 Oscars ceremony.
Other documentaries Moss has done include Con Man (2002) on Princeton imposter James Arthur Hogue, Speedo: A Demolition Derby Love Story (2004) on demolition derby competitor Ed Jager, and The Overnighters (2014) on North Dakota oil boom chasers. He also co-directed Full Battle Rattle (2008), on the U.S. Army simulations built for the Iraq war in Arizona.