Andrew Cuomo is completely dropped from LGBTQ organization's ceremony planning to honor him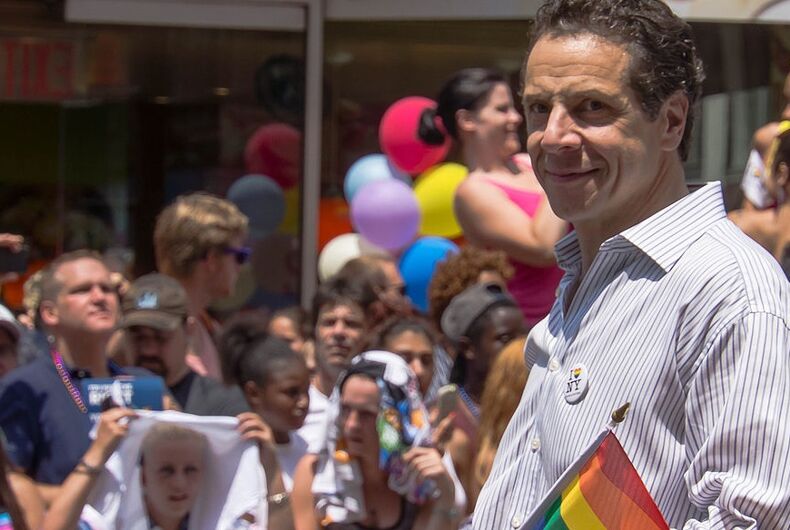 Andrew Cuomo (D) at a Pride rally in 2013.Photo: Wikipedia
New York Gov. Andrew Cuomo (D) was set to be honored with an award at a gala hosted by the LGBT Bar Association of New York last week. But after a series of scandals began plaguing the third-term governor — namely, a growing number of sexual harassment allegations — Cuomo was not mentioned once at the event.
Cuomo was supposed to be the recipient of the Community Vision Award on February 25, according to their website and emails sent prior to the event.
Related: Man on the street confronts women posting vulgar anti-trans stickers all over Manhattan
But at the gala — which took place one day after Cuomo's former aide Lindsey Boylan published her account of alleged sexual harassment by the governor — Cuomo was not mentioned a single time in the event. The accomplishments made under his administration that he was going to be honored for were, however.
The association, also known as LeGaL, initially continued with bestowing the honor, instead naming it for the "Government of New York State." They noted the repeal of the law known as the "Walking While Trans" ban, the GENDA act, protections from conversion therapy, and surrogacy laws, among other things that qualified the government for the award.
"For decades, the LGBT Bar Association Foundation of Greater New York, LeGaL, has bestowed the Community Vision Award upon individuals or organizations with a distinguished record of service to the LGBTQ community, including a sustained commitment to achieving equal rights for all members of our community," the organization wrote in its previous announcement, according to the New York Post.
Marti Gould Cummings, a non-binary New York City Council candidate and drag performer, was the host for the ceremony. They have since called for Cuomo's resignation.
"I have incredible respect for LeGaL and the work they do to help those in need. As a survivor of sexual assault, I stand with the women who have come forward and courageously spoken up," Gould said in a statement to the Advocate. "Their stories are appalling and it's clear that Governor Cuomo's behavior is out of line, which is why I'm calling on him to resign. New Yorkers deserve better."
They also showed support online for Charlotte Bennett, a former staff member of Cuomo's who also accused him of sexual harassment.
Since Boylan shared her story, two more women came forward to accuse Cuomo before he formally apologized on March 3 for his actions, but pledged not to resign. After March 3, two more accusers shared accounts of alleged sexual harassment.
Boylan was a special advisor to the governor and tweeted in December that he had "sexually harassed me for years." She later went into more details of her time there in a Medium post, accusing him of trying to kiss her without consent. Bennett told her story first on February 27 to the New York Times, alleging that Cuomo had inquired about her sex life while she was an advisor to him before pressuring her to engage in a sexual relationship.
Anna Ruch went to the New York Times and gave an account published on March 1 of meeting him at a 2019 wedding, where Cuomo allegedly placed his hands on her face and kissed her without consent.
"I acted in a way that made people feel uncomfortable. It was unintentional. And I truly and deeply apologize for it," Cuomo said on March 3, while denying he meant to harass anyone.
Ana Liss then revealed her story to the Wall Street Journal on March 6, as did Karen Hinton to the Washington Post. These allegations Cuomo denies entirely.
Liss explained that when she was an aide to the governor, Cuomo had hugged her, kissed her on both cheeks, and grabbed her waist while posing for a photo. Hinton accused Cuomo of accosting her in 2000, when he was the Secretary of Housing & Urban Development (HUD) under President Bill Clinton.
Hinton said he "once summoned her to his hotel room, embraced her, then pulled her back to him when she pulled away," according to NBC News. Cuomo was married to Kerry Kennedy at this time.
The governor's director of communications, Peter Ajemian, flatly denied Hinton's accusations, claiming that "Karen Hinton is a known antagonist of the Governor's who is attempting to take advantage of this moment to score cheap points."
"Attacking the accuser is the classic playbook of powerful men trying to protect themselves," Hinton retorted to the Post.
New York Attorney General Letitia James is underway with an investigation into the allegations against Gov. Cuomo and the extent of any alleged harassment or abuse. Cuomo is already facing investigations for his administration's management of the number of deaths of senior citizens for months, which allegedly misreporting numbers intentionally during the COVID-19 pandemic.