"Bridgerton" star Golda Rosheuvel is proud to be "gay, female, Black"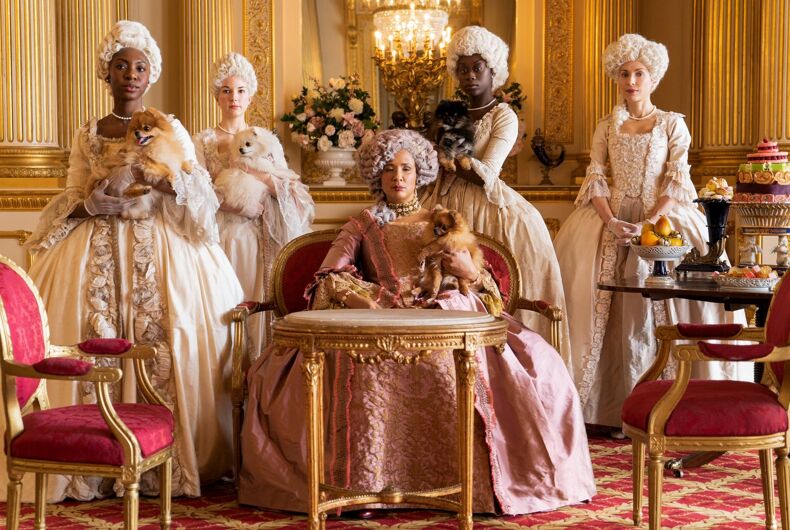 Queen Charlotte (center) from Netflix's BridgertonPhoto: Netflix
British actor Golda Rosheuvel – best known for her work on the hit Netflix series Bridgerton – just talked about how she's "proud" to be gay.
"There's not a lot of us around who are gay, female, black and I'm very privileged and blessed to be one of them," she told Page Six in an interview.
Related: "Good Place" actress Jameela Jamil comes out
She said that she's not going to "speak for a community, I'm a small voice in that community, but I think each of us who has a small voice creates something big and something  wonderful for the next generation to see themselves and be proud of."
"I'm very proud of who I am," she said.
Rosheuvel, 51, was mostly known for her work in theater in the U.K., with some brief roles on British film and television series including Coronation Street, EastEnders, and Torchwood.
But she's probably best known in the U.S. for playing Queen Charlotte on Bridgerton, a role that she said was making her "sick of eating bonbons."
"For a long time now stories had been told by the privileged," she said. "And I think it's time that the door has opened and the time is now that the door is being opened by people of color, black and brown people, Shonda Rhimes, Tyler Perry, Oprah Winfrey, Ryan Coogler."
Rosheuvel lives with her partner, writer Shireen Mula, who she said "struggles to get work seen."
"She writes gay work because that's what she knows," Rosheuvel told the Liverpool Queer Collective in 2018. "But do we see gay plays or gay characters? I think it's a shame. I think it's about funding, maybe people being afraid to lose money if they invest in stories that are about the Other. It is very, very, very, very rare that I will play my casting bracket, which includes being gay."