Caitlyn Jenner wants you to know she will not run to be the governor of California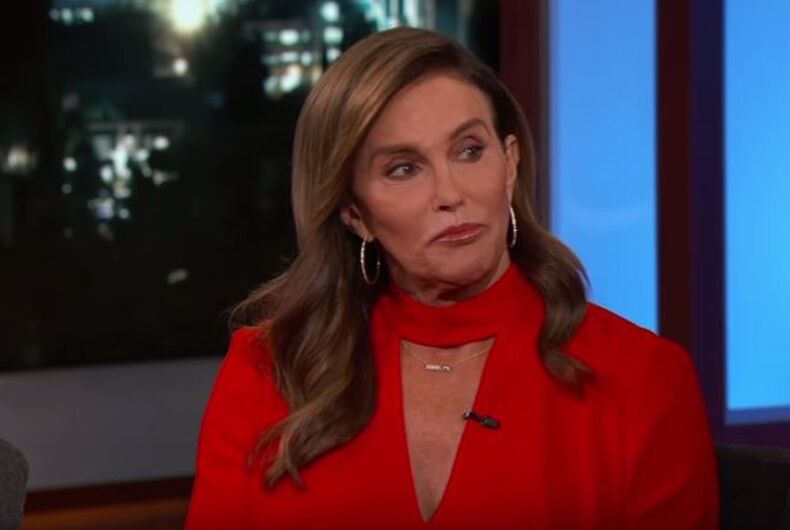 Caitlyn Jenner on Jimmy Kimmel LivePhoto: YouTube/Jimmy Kimmel Live
Caitlyn Jenner will not be running to be the next governor of California.
Jenner's manager has squashed a rumor that Jenner, likely the most famous transgender woman in America, is considering a run for office if Governor Gavin Newsom (D) is recalled.
Related: Out Democrat Brian Sims announces run for Pennsylvania Lt. Governor
"Caitlyn is not running for governor, has never considered running for governor and is very happy doing the work that she is doing to promote LGBT rights and spending time with her 18 grandchildren and 10 children," her manager, Sophia Hutchins said.
Republicans are pouring money into the recall effort over Newsom's handling of the coronavirus pandemic.
Trump supporters in the GOP have dumped over $3.5 million into the initiative and proponents say they have gathered enough signatures to trigger the recall. Former out ambassador to Germany, Richard Grenell, is allegedly interviewing campaign strategists and talking to potential major donors and will be ready to pounce according to Politico.
Grenell denied the rumor as well.
Until being elevated by former President Donald Trump, Grenell was known as a Twitter troll who regularly attacked women and Democrats. Since leaving the post, he has resumed lobbing insults and lies about political opponents. He has remained an ardent Trump supporter.
Jenner originally supported Trump's run for office, but quickly cooled on him after he continued to attack transgender people throughout his administration.