Chad Banks is a gay Democrat serving in Wyoming. Here's what he says it's like.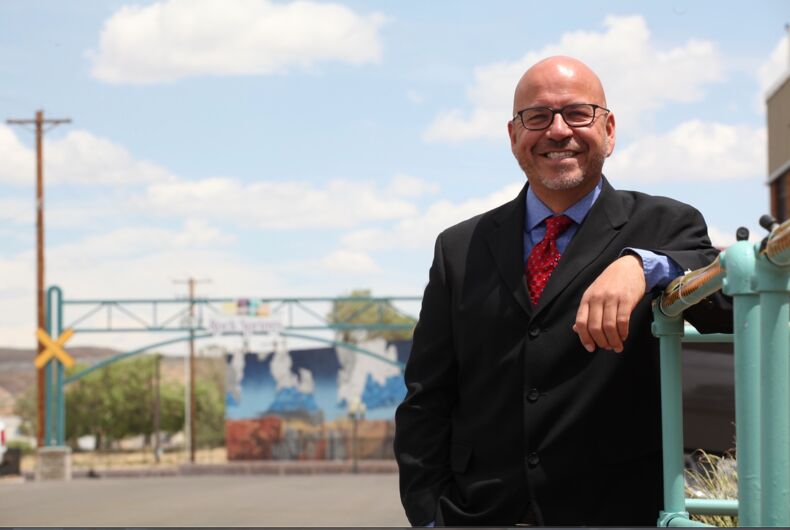 Wyoming State Representative Chad Banks Photo: Jenni Knezovich
For freshman Wyoming State Representative Chad Banks, being an out gay man in a deep red state has not at all felt like a limitation.
Despite Wyoming's reputation as one of the most conservative states in the country, and despite the fact that it has no LGBTQ anti-discrimination laws on the books, Banks told LGBTQ Nation that he has personally not faced much discrimination.
Related: Lesbian minister announces she will challenge seditionist Congressman Madison Cawthorn
"Wyoming gets a black eye as this kind of backwards place," he said. "That's not the Wyoming I know. Even when I came out I never experienced anything that was hateful."
Banks came out in his forties and is a fifth-generation resident of the Wyoming city of Rock Springs. He describes Wyoming's people as "live and let live" and believes that despite the Republican party's official stances, even most Republican residents support LGBTQ people's right to live freely.
In fact, Banks is one of three out LGBTQ legislators in the state's House of Representatives – one of whom is a Republican.
Banks served for seven years on the Rock Springs City Council before running unopposed for the House in the November 2020 election. He also married his husband during the campaign.
"In June for Pride month, I changed my campaign logo to reflect the pride colors," he said, "and I will tell you I was really hesitant to do that. [But] I was 51, and I thought, I'm big enough to take those kinds of [hateful] comments."
"I thought it was important to send a message to people who are struggling with their sexuality, to kids, to parents, and to other residents, that we're here and we're visible."
To his surprise, he received zero negative comments. Instead, he said LGBTQ people, as well as the parents of LGBTQ youth, reached out to thank him.
Perhaps a far greater challenge for Banks than his sexuality is the fact that he is one of only seven Democrats in the House of Representatives, which he said will make passing legislation like anti-discrimination statutes "an uphill battle." Nevertheless, Banks believes his moderate status will help him work with people across the aisle.
"I try to keep in mind, especially when we have policy disagreements, that we all want the best for Wyoming," he said.
Banks, in fact, used to be a Republican.
He registered with the party at 18, but his dislike for Donald Trump led him to reconsider. The last straw was when the Wyoming Republican Party maintained its stance against marriage equality as a main tenant of its platform.
"I said, that's it. That's the dealbreaker for me," Banks said. "I had some Republican friends who reached out and said, we need more moderates like you to stay in the party because when you leave, the party goes further and further to the right. And I said that's not my battle."
He couldn't be a part of a party that he felt devalued his family, he said.
"We do the same things everybody else does. We sit down to dinner. My husband delivers Meals on Wheels every Friday. We volunteer, we sit on boards, we give donations."
Besides, he joked, had he stayed in the party, people would have called him a RINO (Republican in Name Only). Now a proud Democrat, Banks remains committed to doing what he feels is best for Wyoming.
"As corny as it sounds, I've just always wanted to be involved, always wanted to make my community a better place."
Right now, a major concern for Banks is his district's reliance on the oil, gas, and coal industries. He is focused on diversifying the economy.
"The down trend in coal has been and will be really impactful to my community," he said.
This is why Banks's first bill, H.B. 205, would set up a committee on extractive industry transitions to work with affected communities to find new ways to facilitate economic development.
Banks added that his three daughters make him especially committed to bettering the state.
"I wanted to do what I could to help with economic diversity issues in Wyoming and help make sure there's a future for them to have in this community."