Chasten Buttigieg had the shadiest reaction to Rush Limbaugh's death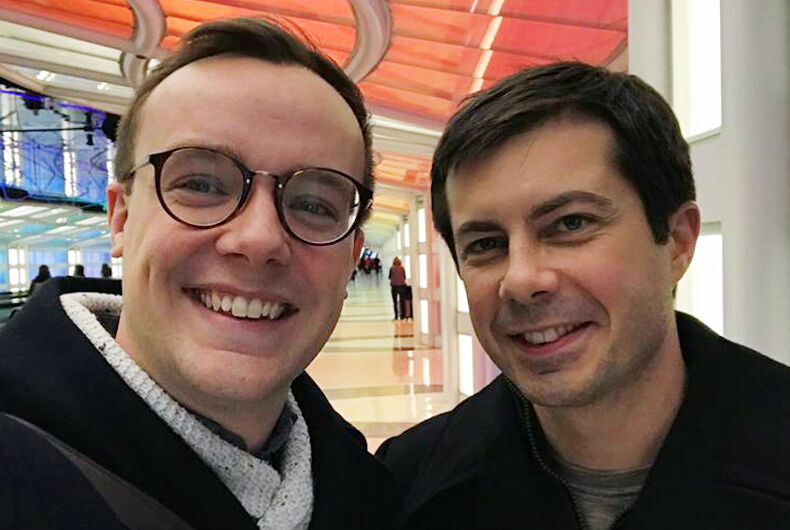 Chasten and Pete ButtigiegPhoto: Pete Buttigieg's Facebook
Chasten Buttigieg had a lowkey brilliant response to news that Rush Limbaugh passed away yesterday.
Limbaugh, who was a far-right radio host since the 1980s, attacked LGBTQ people and was openly disgusted by gay men throughout his career.
Related: Rush Limbaugh celebrated the deaths of gay men from AIDS on his radio show
One of the more recent targets of Limbaugh's homophobia was Pete Buttigieg, who kissed his husband Chasten on camera when he announced his 2020 presidential campaign.
On his radio show, Limbaugh became obsessed with that kiss, mentioning it multiple times on several episodes. He said, "America's still not ready to elect a gay guy kissing his husband on the debate stage president," asked how parents will explain it "to their children," and explained that Democrats wanted to nominate Buttigieg so that he could debate Donald Trump and "ram it down Trump's throat" by kissing Chasten on stage.
It was very strange and it was just last year.
So when news hit the internet of Limbaugh's death, Chasten posted a nice picture of him kissing his husband to Twitter with no comment.
He didn't say exactly why he posted that picture, but his followers understood the reference.
You say more with one well-timed photograph than most people do with a paragraph. I married my soulmate, and it's clear you did too. Your love is inspiring and hopeful. My best to you both as you wait out the quarantine. ❤️

— Paula ❤️ #SecretaryMayorPete ? ????? (@paularadell) February 17, 2021
Limbaugh's obsession with Pete and Chasten's willingness to display any affection at all in public repeatedly came up in his coverage of the 2020 Democratic primary.
"A gay guy, 37-years-old, loves kissing his husband on debate stages. Can you see Trump have fun with that?" he said in a February 2020 show.
He talked a bit more about the primary in general and then got back to "Booty Judge" – yes, he thought he was clever – saying again that he "loves to kiss his husband."
"OK, how's this going to look, 37-year-old gay guy kissing his husband on stage next to Mr. Man Donald Trump," he continued. "What's going to happen there?"
Limbaugh said that the "grand poobahs in the Democrat Party" are saying that "despite all the great progress and despite all the great wokeness… America's still not ready to elect a gay guy kissing his husband on the debate stage president."
"There may be some Democrats who think that's exactly what we need to do, Rush," he said. "Get a gay guy kissing his husband on stage, ram it down Trump's throat, and beat him in the general election. Really. Having fun envisioning that."
In another episode from the same month, Limbaugh continued to attack the Buttigieges for kissing in public.
"So I saw a political ad, where Mayor Pete, Mayor Pete Buttigieg, going on and on and on and on and on, about how parents in America are struggling to explain President Trump to their children," Limbaugh said.
"And then I happen to see this," he said, holding up a photo of Buttigieg kissing his husband for his video feed subscribers, saying that Pete kisses Chasten in public "frequently."
"You think — natural conclusion — so he says Trump causes problems for parents, what about that?"
His "AIDS Update" segment that was a regular feature on his show in 1989 and 1990 celebrated the deaths of gay and bi men from AIDS. The segments have been getting a lot of attention this week since he passed away.
He stopped doing those segments, but it would definitely not be the last time he attacked LGBTQ people on his show.
In 1989, he said that the best way to stop HIV was "do not ask another man to bend over and make love at the exit point. That's what you don't do."
He spent the 90's talking about AIDS and advocating less funding to fight the epidemic.
Limbaugh referred to the disease as "the only federally-protected virus." He denounced spending money on "education, and condoms, and cucumbers and all that" because there was no "evidence that [HIV] was spreading to the heterosexual community, not sexually anyway."
By the 2000s, marriage equality became the target of his disdain.
"They seek to impose their perverted views, their depraved views on family and marriage," he said, talking about marriage equality activists in 2010. "Marriage is a union of a man and a woman… This is about destroying an institution."
He claimed in 2014, before marriage equality was even a reality in all of the U.S., that straight people were the real marginalized group: "They're under assault. You say, 'Heterosexuality may be 95, 98 percent of the population.' They're under assault by the two to five percent that are homosexual."
He also said that there was a "movement on to normalize pedophilia" that was related to the movement for marriage equality.