Demi Lovato helps explain why "gender reveal" parties are transphobic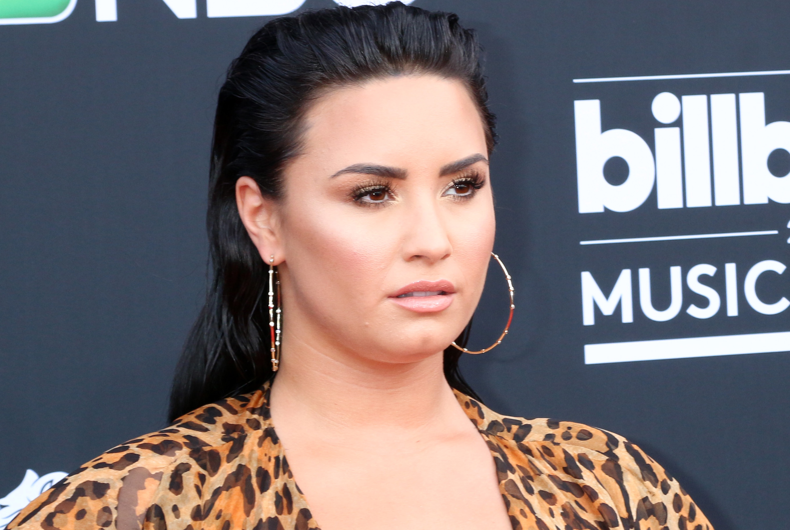 Photo: Kathy Hutchins / Shutterstock.com
Out star entertainer Demi Lovato used her social media platform to boost a simple message to nearly 100 million followers: stop throwing gender reveal parties.
Lovato, who currently identifies as sexually fluid as opposed to one dedicated term, reposted a post featuring several images from Alok Vaid-Menon on Instagram. It opens, "why gender reveal parties are transphobic."
Related: The new video for Demi Lovato's "Commander in Chief" is a scathing takedown of Donald Trump
Why?
"Gender reveals are based on the illusion that genitals = gender and that there are only two options 'boy or girl'," one slide explains. "This definition erases the fact that there are boys with vaginas and girls with penises and that there are people who are neither boys nor girls."
The post also notes, "the idea that sex is based on genitalia is inconsistent with science," encouraging readers to visit not-binary.org to hear from scientists as to why. "Gender reveals require not just the invalidation of transness, but the impossibility of transness."
"The irony is that trans and gender non-conforming people are accused of advancing a 'gender ideology', when in fact we are trying to escape it," the last slide explains.
As Menon pointed out and Lovato highlighted in her caption, "transphobia is not just prejudice or violence against an individual trans person, it is a belief system that presumes non-trans people to be more 'natural' than trans people. Only individual people can self determine their gender."
The post comes just days after another person lost their life preparing an explosive device for a gender reveal party.
Father-to-be Christopher Pekny of Liberty, New York was in his garage preparing the colored powder for his child's gender reveal party when the device prematurely exploded. He and his brother, Michael Pekny, were rushed to a hospital, where Christopher was pronounced dead and Michael is being treated.
Alok Vaid-Menon is an influential author, performer, and personality who is gender-nonconforming and constantly explains why we need to think beyond the gender binary.
A graduate of Stanford University hailing from College Station, Texas, Vaid-Menon authored the book Beyond the Gender Binary and was nominated for LGBTQ Nation's Instagram Advocate of the Year honor this past fall.
Though Lovato is known for her 2015 bi-curious anthem "Cool for the Summer", she admitted to Queer Eye's Tan France that some of her earlier romantic songs were actually about women, even though some fans thought they were about men.
"I'm surprised that some of them didn't figure out that some of the songs were for certain people," Lovato told France. "I was sharing it with the world, yet I wasn't being completely obvious with what I was talking about. Music was my safe space."
Later in the interview, Lovato told France, "I pretty much told all of my friends and my older sister (that I was queer) when I was 17. They all knew before I brought it to my parents and then to the public. Those were my three phases: Friends, parents, public."
In the past, the former Disney star has spoken openly about her struggles with drug addiction, eating disorders, self-harm and mental illness. She has cited bisexual singer Whitney Houston as one of her influences.
She has also spoken out in favor of marriage equality in 2013, was named the L.A. Pride Parade Grand Marshal and lead performer for NYC Pride in 2014, and received the GLAAD Vanguard Award for making a significant difference in promoting equal rights for the LGBT community at the 27th GLAAD Media Awards ceremony in 2016.