Donald Trump calls trans women "biological males" who will "end" women's sports in CPAC speech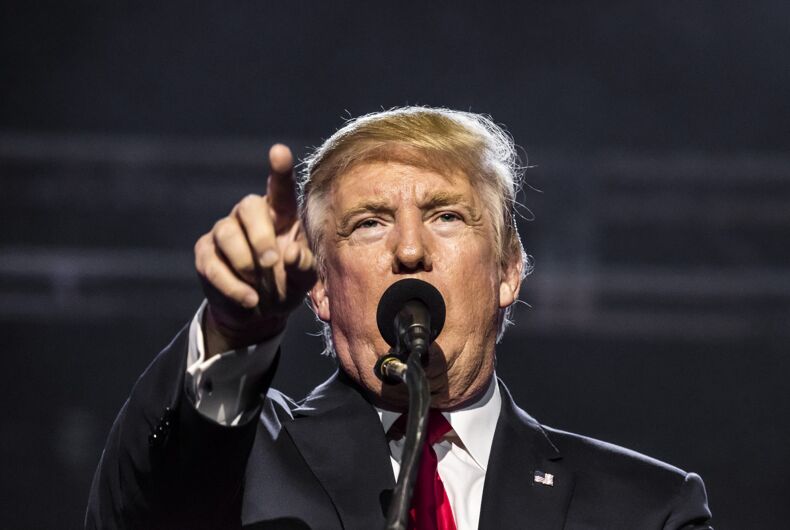 OCT 15, 2016: Donald Trump speaks at Hindu Indian-American rally for "Humanity United Against Terror"Photo: Shutterstock
Disgraced former President Donald Trump attacked transgender women during his speech at the Conservative Political Action Conference (CPAC) yesterday, calling them "biological males" and said that "women's sports[…] will die" as a result of transgender women competing.
"I think it's crazy what's happening. We must protect the integrity of women's sports," he said. "It's so important."
After losing the 2020 election, inciting his followers to attempt to kill Mike Pence and other members of Congress, and becoming the first U.S. president to be impeached twice, Trump was speaking at one of the biggest conservative events of the year.
Related: Rand Paul calls trans schoolgirls "hulking six-foot-four guys" in bizarre Senate committee rant
During his speech, he accused "Joe Biden and the Democrats" of "pushing policies that would destroy women's sports."
"A lot of new records are being broken in women's sports. Hate to say that, ladies, but you've got a lot of records that are being shattered," he said.
That is not actually happening.
"Young girls and women are now incensed that they are being forced to compete against those who are biological males," Trump said. "It's not good for women, it's not good for women's sports, which worked so long and so hard to get to where they are."
"The records that stood for years – even decades – are now being smashed with ease," he said. "Smashed. If this does not change, women's sports as we know it will die. It'll end. It'll end."
"What coach, if I'm a coach, you know, I want to be a great coach. What coach, as an example, wants to recruit a young woman if her record can easily be broken by somebody who was born a man? Not too many of those coaches around, right? If they are around, they won't be around long when their record is, we're 0 and 16 but we're getting better."
"No, I think it's crazy. I think it's crazy what's happening. We must protect the integrity of women's sports. It's so important. We have to."
He then got a huge standing ovation from the conservatives in the room.
Trump decided rant about transgender women being involved with sports.

Any of his points could easily be debunked by someone who is capable of reading Wikipedia. pic.twitter.com/2KJwZ8lHCY

— Coping MAGA (@RightWingCope) February 28, 2021
Trump, who has confessed to sexually assaulting women, has been accused by at least 25 women of attacking them since the 1970s.
Several former Miss USA and Miss Teen USA contestants have also accused him of entering their dressing rooms while they were changing. Trump said on the Howard Stern Show that he could "get away with things like that" because he owned the pageants.
Unlike many Republicans who suddenly care about women's sports now that they can be used to attack transgender women, Trump does have some history with supporting them. He has a long relationship with both the PGA and LPGA tours, which have organized events at his venues in the past.
This became controversial in 2017 when the Trump National in Bedminster, NJ hosted the 72nd U.S. Women's Open, the biggest women's golf competition in the U.S. Fans of the sport urged the organizers to change venues because of Trump's sexism.
"A Trump golf course, no matter how beautiful and centrally located it might be, cannot play host to an event that is the crown jewel of a women's sport, with competitors from around the world — not after all the awful things Trump has said about minorities, immigrants, and women, culminating in the lewd and disgusting video that was made public last Friday," wrote USA Today sportswriter Christine Brennan at the time.