Ellen DeGeneres' new "gay Tylenol" might not cure headaches, but it certainly delivers laughs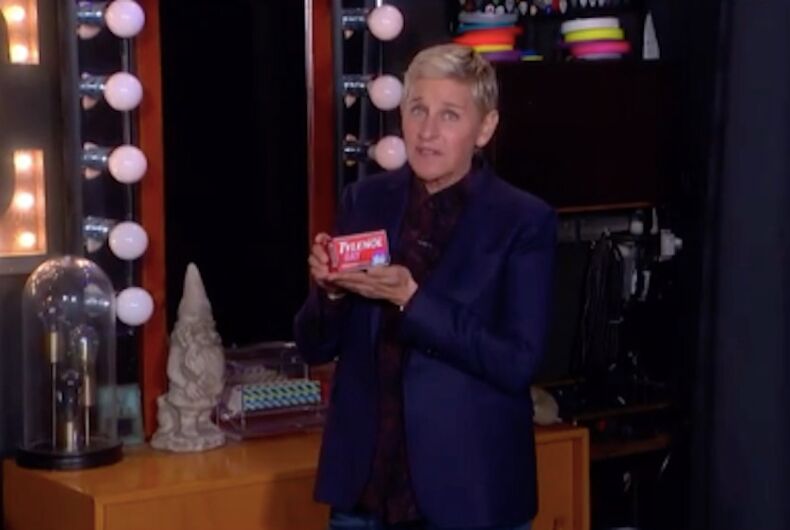 Ellen DeGeneres shows off her Tylenol GayPhoto: Instagram screenshot
A study has revealed that gay, lesbian and bisexual people experience migraines 58 percent more often than straight people. But Ellen DeGeneres has an answer: gay Tylenol.
In a commercial spoof posted to her show's Instagram, DeGeneres revealed a new over-the-counter medicine designed specifically for queer headaches. But it's definitely not for everyone.
Related: Professor blames WiFi radiation for anti-gay & racist tweets. He still got fired.
"You know I love being gay, but I can't stand the headaches," she said, adding that they always seem to pop up when she's trying to attend brunch or build a shelf.
"Regular Tylenol treats common heterosexual headaches that tend to suddenly increase in pain," she continued, "but Tylenol Gay attacks those pesky gay headaches that feel like a parade is in your head, and not the good kind."
While Tylenol Gay can alleviate your headaches, the product also comes with some disclaimers.
"Don't use Tylenol Gay if you wear cargo shorts, sandals or have ever hosted a gender-reveal party," the commercial states. "If you're unsure about your sexuality or only experimented once in college, ask your doctor if Tylenol Gay is right for you."
"Just because your headaches are here and queer," DeGeneres concludes, "doesn't mean you have to get used to them."
The University of California 's study of 1,000 people ages 31 to 42 found that gay, lesbian and bisexual (LGB) people weren't the only groups who get migraines more often. Women, poor people and Black Americans also experience them at higher rates than the general population.
"There might be a higher rate of migraines in LGB people because of discrimination, stigma or prejudice, which may lead to stress and trigger a migraine," the study's lead author Dr. Jason Nagata, an assistant professor of pediatrics at the University of California in San Francisco, told the Thomson Reuters Foundation.
The extreme headaches can also cause sound and light sensitivity, blurred vision, nausea, vomiting and even hospital room visits. But DeGeneres' commercial spoof at least shows that laughter's still strong medicine against life's pain.