Gay Republicans released a cringeworthy video praising Donald Trump for President's Day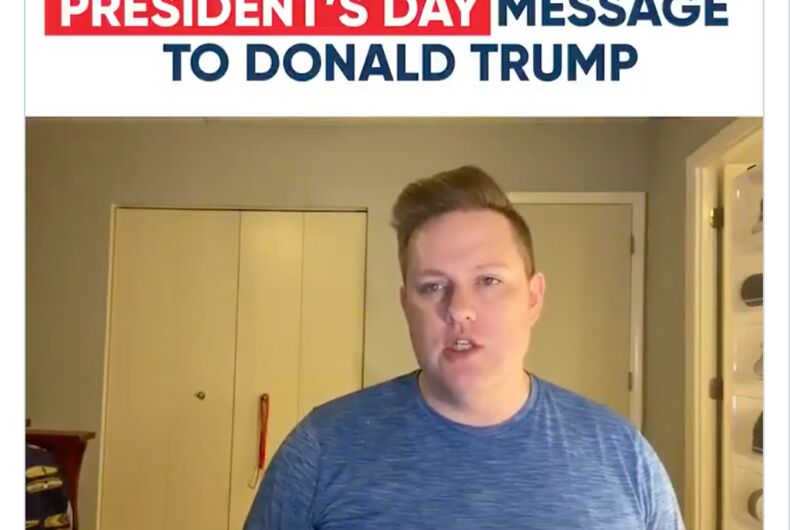 Log Cabin Republicans spokesperson Charles MoranPhoto: Screenshot
The Log Cabin Republicans released an awkward video to honor George Washington's birthday by praising former President Donald Trump. The video is for "President's Day," giving them a way to shoehorn Trump in, but that isn't actually a federal holiday.
The video features several queer supporters proclaiming their adoration for the most viciously anti-LGBTQ President in the nation's history.
Related: Log Cabin Republicans endorsed some of the most anti-LGBTQ politicians running for office
The usual suspects appear in the video, including the group's spokesperson Charles Moran, journalist Chadwick Moore, and the blogger "Brokeback Patriot."
Several states have designated Washington's birthday as President's Day to honor Abraham Lincoln's birthday as well. The holiday actually has a complicated strange background that has led to its status as one of the least appreciated reasons for a three-day weekend. In Indiana, for example, Washington's birthday is observed on Christmas Eve – or the Friday before Christmas if it falls on a weekend. The state observes Lincoln's birthday the day after Thanksgiving, using both as a way to stretch out holidays.
The Log Cabin video can be taken about as seriously as President's Day.
"Donald Trump was the first president in American history to open the tent of the Republican party and accept LGBTQ Americans and for that, I am eternally grateful," one supporter says. The party's 2020 platform endorsed ex-gay therapy, opposed marriage equality and opposed LGBTQ civil rights.