George Washington's favorite dessert is perfect to mark Trump's second impeachment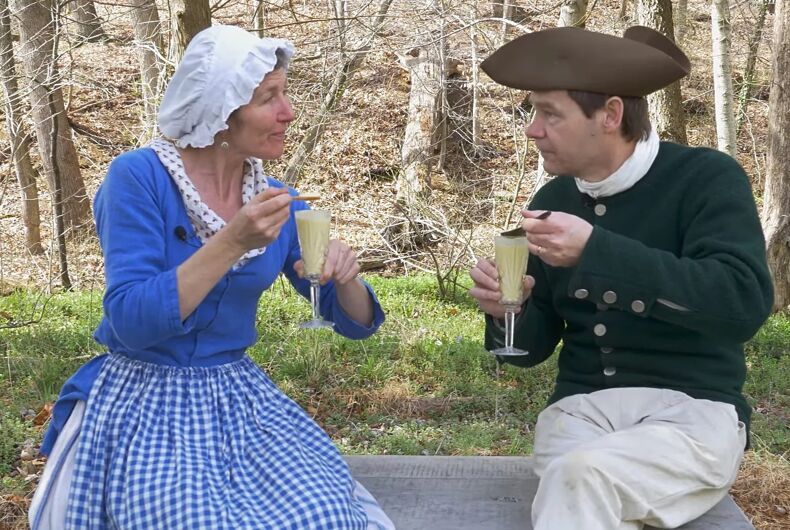 Deb Colburn and Jon Townsend make George Washington's favorite dessert: the orange fool.Photo: Screenshot
As Donald Trump's second impeachment trial kicks off, what better time to make a dessert fit for a former president?
George Washington's favorite dessert, the orange fool, is fancy enough for a president, but still easy enough to make at home — especially now that you don't have to use a firepit to create it.
Related: One of George Washington's top generals in the Revolutionary War was likely intersex
Cooking and baking challenges have been popular during coronavirus lockdowns, but this recipe can be found in the former First Lady Martha Washington's original cookbook, in her handwriting. The custardy treat was saved for special occasions — but with such simple ingredients like orange juice, cream and eggs, you could make it tonight.
Martha's recipe is a copy from Hannah Glasse's 1747 cookbook, The Art of Cookery Made Plain and Easy. YouTube is full of videos of people making updated versions of Glasse's recipes, but Jon Townsend's orange fool video has become a classic.
The history YouTuber spent some time at Washington's Mount Vernon estate and caught hell after publishing his "orange fool" video, because MAGA supporters assumed he was mocking then-President Trump, not making a custard treat.
Townsend and his hostess, Deb Colburn, make the dessert the old-fashioned way in the video, but the estate has kindly provided an updated version for the modern chef. No open flame required.
And if you haven't quite satisfied your Hannah Glasse itch, you can always watch Max Miller, the out host of Tasting History, make an "Everlasting Syllabub" from the same cookbook.