GOP Congresswoman calls Equality Act "supremacy of gays, lesbians & transveshikes"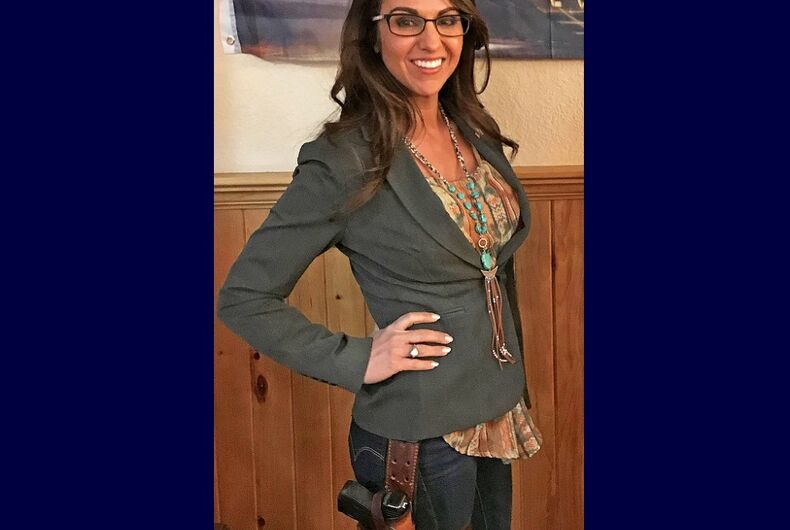 Rep. Lauren Boebert, just hanging out at her restaurant with a gun, like a normal personPhoto: Jeffrey Beall/via Wikipedia
Rep. Lauren Boebert (R-CO) went on a rant about the Equality Act that went viral, where she referred to it as a bid for the "supremacy of gays, lesbians & transveshikes."
Boebert – who has accused Spongebob Squarepants of being gay – had some trouble remembering what "LGBTQ" stands for in a bizarre rant about the Equality Act while appearing on Steve Bannon's War Room podcast.
Related: Republican introduces anti-trans bathroom bill in Congress to stop "radical gender ideology"
"The so-called Equality Act, which we all know is the Democrats using a play on words," Boebert said. "There is nothing about equality in that act. If anything, it's the supremacy for gays, lesbians, and transveshikes."
The Equality Act bans discrimination against LGBTQ people as well as cisgender, heterosexual people since it addresses sexual orientation and gender identity generally, but Boebert said that the bill is "about putting them higher than anyone else. It's not about equality."
Instead of passing the Equality Act, she suggested that the 14th Amendment already does what the bill would do, which is to ban discrimination in employment, housing, credit, and other areas.
"If you look at the Constitution, then that is where equality is kept secure and held sacred," she said. "We have the 14th Amendment that says that all men are equal under the law. so we need to hold that supreme rather than woke ideology."
It's not clear exactly how the Equality Act – was first proposed in 1974 and would mostly expand laws passed in the 60s and 70s – is a product of "woke ideology" or what Boebert believes the Equality Act does if she thinks that the 14th Amendment is a substitute for it.
The Equality Act would add sexual orientation and gender identity to existing federal civil rights legislation, expand the definition of covered public accommodations under the law, and clarify that the Religious Freedom Restoration Act doesn't supersede civil rights laws.
The 14th Amendment doesn't do any of those things.