Here's how Trump Hotel staff were taught to handle the former president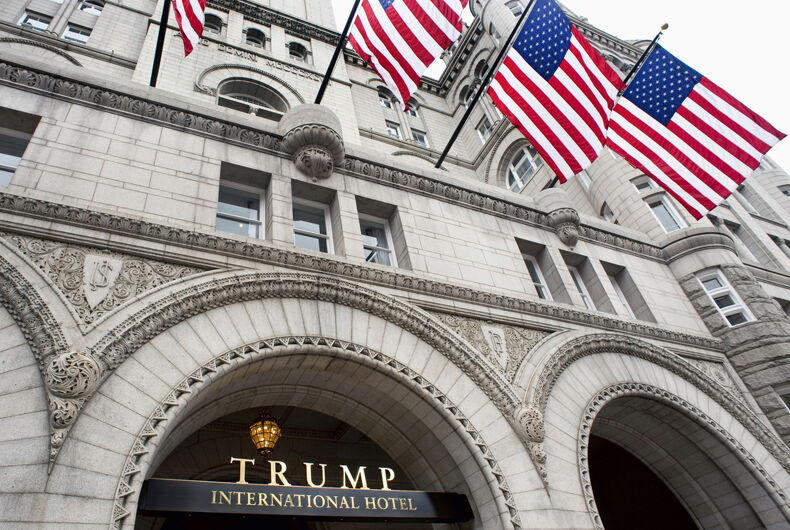 Trump International HotelPhoto: Shutterstock
Now that former President Donald Trump has fled Washington, the staff at Trump Hotel are spilling secrets – including how they were taught to handle the notoriously persnickety diva.
A "Standard Operating Procedure" document precisely detailed the protocol for serving the most powerful man in the world – and his coterie of groupies and loyalists.
Related: Angry Republicans may start their own party as GOP rallies around seditionist Trump
The Washingtonian reports that the document reads like a pop star's contract rider, detailing everything from how to open Trump's obligatory bottle of Diet Coke to the snacks that were required to be constantly available.
Servers were supposed to recite "Good (time of day) Mr. President. Would you like your Diet Coke with or without ice?" and "discretely present" a mini bottle of hand sanitizer to the germophobic former leader. Chilled bottles and highball glasses were available no matter his choice.
The directions for how to open the bottle spanned seven pages and included illustrations, but the bottle was never to be opened "beforehand" where he couldn't see it.
Servers also had to "pop" the seal on mini glass bottles of ketchup where he could hear it when they served his standard meal of well-done steak with fries and a shrimp cocktail. The appetizer was to be served "immediately;" it used special shrimp that was larger than the others and only used for his dish.
After Trump complained that one of his dining companion's steaks was larger than his, the chef ordered the former commander-in-chief special 40-ounce steaks guaranteed to be bigger than anyone else's.
A tray of junk food was also required to be available. It had to include sour cream and chives Lay's potato chips, Oreos, Nutter Butters, Milky Way and Snickers candy bars, Chips Ahoy cookies, Tic Tacs, gummy bears, granola bars, and chocolate-covered raisins among other items.
Multiple staff members document run-ins with administration officials and Trump lackeys from Hope Hick's "Don't you know who I am?!" moment to Rudy Guilliani's "private office" in the dining room.
By comparison, Ivanka and her brothers weren't a problem – and she didn't appear to want to be seen at the hotel. She would sit with her back to the dining room and leave quickly. They weren't as kind about Tiffany Trump who would regularly make reservations and not show up.