J Lo & Dwyane Wade love this dad who stood up for his trans daughter. You will too.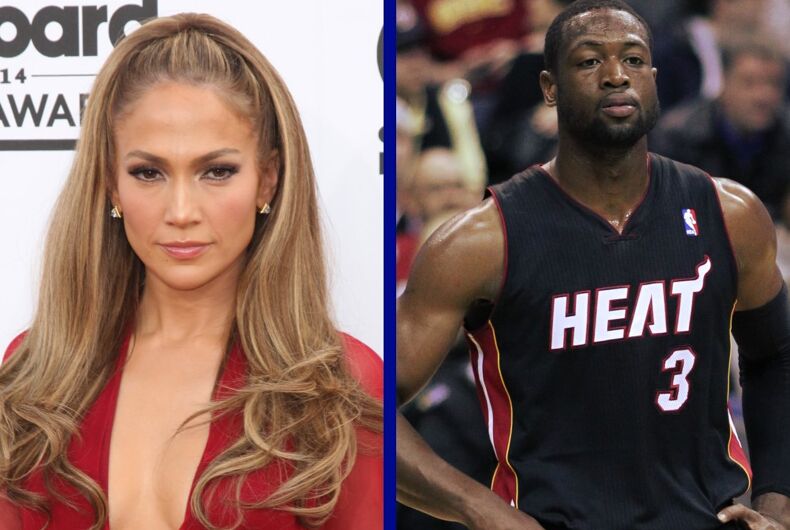 Jennifer Lopez/Dwyane WadePhoto: Shutterstock/Keith Allison via Wikipedia
NBA legend Dwyane Wade and singer Jennifer Lopez are sending love and admiration to the father of a transgender girl who shook the internet with his heartfelt plea for her humanity.
"Let them have their childhoods," Brandon Boulware pled before the Missouri House as legislators considered a bill to ban trans girls from playing sports in school, "Let them be who they are."
Related: Dwyane Wade's trans daughter made her red carpet debut & the pictures are stunning
"I don't know Brandon Boulware at all but I do know we have something real in common," Wade posted on Instagram along with video of Boulware's emotionally raw testimony. "Here's the one thing we can't do 'SILENCE OUR CHILD'S SPIRIT' Thank you for using your platform and sharing your family's story! 'Our kids are more than bedrooms, bathrooms and locker rooms.'"
Wade's daughter Zaya is transgender. Lopez, however, is the very proud auntie of her non-binary "nibling," her sister's child.
"I love," J Lo tweeted. "This touched me… a parent's love… love changes the world…❤️❤️❤️"
"For years, I didn't get it," Boulware said during his testimony. "For years, I would not let my daughter wear girl clothes. I did not let her play with girl toys. I forced my daughter to wear boy clothes, get short haircuts and play on boy sports teams."
He said that he thought he did it to protect her from being teased but admits he wanted to "avoid those inevitable questions as to why my child did not look and act like a boy."
He came to realize that the girl was "equating being good with being someone else. I was teaching her to deny who she is."
But she had "a total transformation" when
"For years, I didn't get it," he said. "For years, I would not let my daughter wear girl clothes. I did not let her play with girl toys. I forced my daughter to wear boy clothes, get short haircuts and play on boy sports teams."
He said that he thought he did it to protect her from being teased but admits he wanted to "avoid those inevitable questions as to why my child did not look and act like a boy."
He came to realize that the girl was "equating being good with being someone else. I was teaching her to deny who she is."
But she had "a total transformation" when Boulware and his wife stopped forcing her to present as male. "I now have a confident, a smiling, a happy daughter."
MUST WATCH: Brandon Boulware, the father of a transgender daughter, testifies during a hearing asking Missouri lawmakers to stop discriminating against trans youth. pic.twitter.com/bTuSoyE1nW

— ACLU (@ACLU) March 15, 2021