Jesse Tyler Ferguson is doing everything to raise his child as gay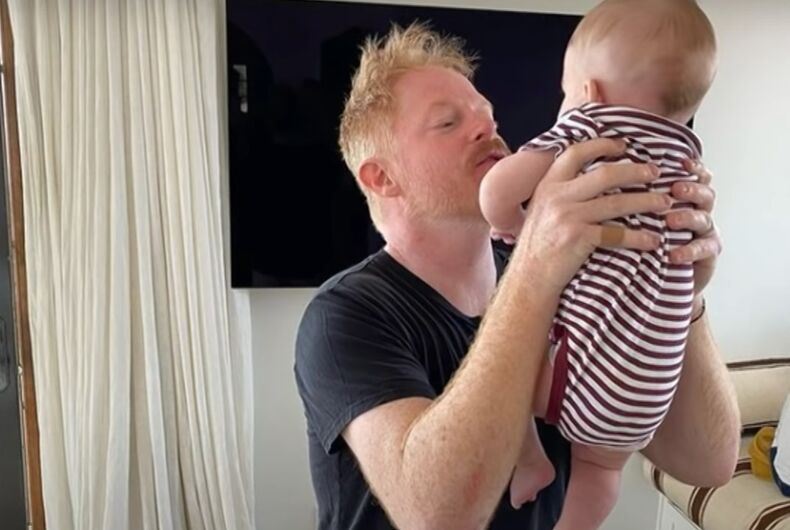 Jesse Tyler Ferguson with baby BeckettPhoto: Screenshot/EllenTube
Jesse Tyler Ferguson told Ellen DeGeneres that he plans to raise his son as gay… unless he comes out as straight at some point.
The Emmy-winning out actor is best known for his years on the series Modern Family had a child, Beckett, last year with his husband Justin Mikita. And Ellen asked how fatherhood is going for him now that the baby is eight-months-old.
Related: Jesse Tyler Ferguson has perfect answer for parents scared about gay characters
"It's a new person in your life, and just like anyone else new that comes into your life, it's like, you've got to figure out if you like them," he joked.
He then said that he sings Beckett "a lot of show tunes, because that's what I like."
"We're raising him gay until he decides he's straight," Ferguson said. "On the way back from the hospital, we played Britney Spears, because that was Justin's one demand to listen to, that was his first exposure to music."
"You'll love him just the same if he is straight?" Ellen asked.
"Absolutely," Ferguson responded, explaining that Beckett will probably end up being really straight and he'll have to learn to play football to play with the kid.
He then said that one of his favorite books to read with the baby is The Hips on the Drag Queen Go Swish, Swish, Swish.