Jodie Foster kisses her wife in Golden Globe acceptance speech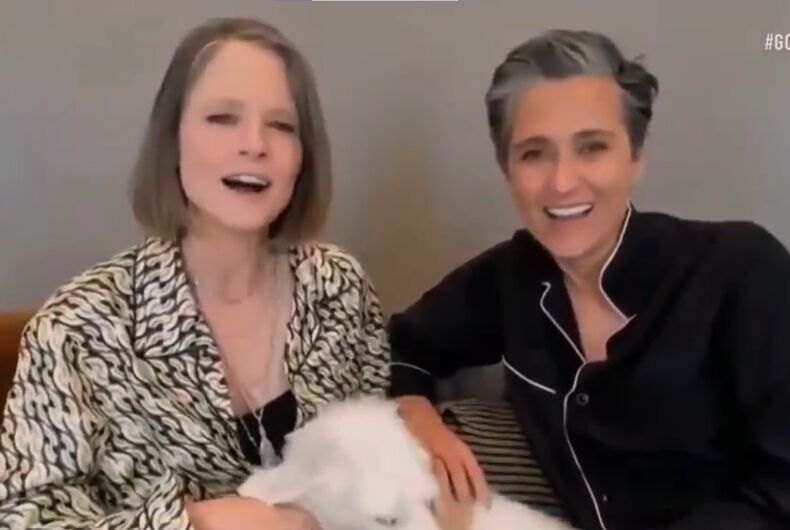 Jodie Foster and Alexandra HadisonPhoto: Screenshot/Twitter
Out actor Jodie Foster kissed her wife during her Golden Globe acceptance speech last night.
Appearing on the prestigious awards show in bed, in her pajamas, with her wife Alexandra Hedison, and their dog Ziggy.
Related: Anderson Cooper & Jodie Foster named most 'inspirational' coming out celebs
She was one of five nominees for Best Supporting Actress in a Motion Picture for her work in The Mauritanian. When she won the award, she leaned over and kissed her wife.
"I'm a little speechless," she said. "I just never expected to ever be here again."
"I love my wife, thank you Alex and Ziggy and [Green Bay Packers quarterback] Aaron Rodgers and the whole foreign press. This is awesome. What a night."
Foster came out publicly in 2013 when she received the Cecil B. Demille Award at the Golden Globes that year, and she has been married to Hadison since 2014.
This is the third Golden Globe that she has won – she won Best Actress in a Motion Picture in 1989 for The Accused and in 1992 for The Silence of the Lambs.
Other LGBTQ winners at the 2021 Golden Globes include the hit Canadian series Schitt's Creek, which won Best Musical/Comedy Series. Catherine O'Hara won Best Television Actress in a Musical/Comedy Series for her work on that show.
Chadwick Boseman won Best Performance by an Actor in a Motion Picture – Drama for his work in Ma Rainey's Black Bottom about the titular, bisexual blues singer.
Andra Day won Best Performance by an Actress in a Motion Picture – Drama for her work in The United States vs. Billie Holiday, playing the legendary bisexual jazz singer.
Foster thanked Rodgers because, apparently, he thanked her when he was named the NFL's MVP earlier this month, and she promised to return the favor.