Journalist Alex Berg has spent the past decade telling queer stories. Here's why.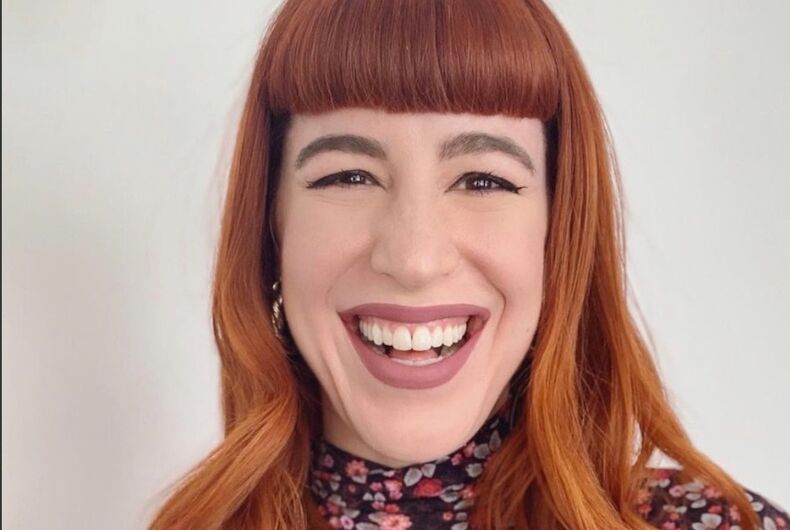 Host, producer, and journalist Alex BergPhoto: Alex Berg
Queer journalist, producer, and host Alex Berg has interviewed thousands of people throughout her decade-long career.
She has danced with celebrities on her Buzzfeed morning show, has explored how reproductive justice intersects with queer issues for Out Magazine and has sat in the living rooms of service members living with HIV for MIC.
Related: The LGBTQ Nation podcast has arrived & here's how you can listen
She has interviewed politicians like now- Transportation Secretary Pete Buttigieg and Sen. Cory Booker (D-NJ), and with vivacious energy and relentless passion, has amplified the stories of countless LGBTQ people.
Now, Berg is the host of LGBTQ Nation's new podcast, produced in partnership with Forever Dog. With five episodes released so far, Berg has sat down with athletes, activists, journalists, and lawyers to discuss issues like the anti-trans legislation being considered in states across the country and the effects COVID-19 has had on the queer community.
"Every issue is an issue that impacts LGBTQ people," Berg told LGBTQ Nation.
"We're so many different communities, and this podcast was another opportunity to keep on having important conversations about the news and about issues that impact our lives."
A self-described "proud bisexual femme," Berg said one of the best parts about working in queer media is that no one is trying to debate whether LGBTQ people deserve respect, dignity, and equal rights.
"That is an understanding we're all jumping into the conversation from," she said.
It hasn't always been that way for Berg. Early in her career, she said she had to spend a great deal of time trying to convince editors that LGBTQ issues were worth covering at all, that they were not a niche topic, and that there were not a finite number of stories to tell.
Berg persisted in pushing for more LGBTQ stories, she said, because she understood the community needed coverage of important topics that many deemed controversial. She wasn't seeing the conversations she wanted to see, she explained, so she started them herself.
"One of the big things that attracted me to journalism is tackling topics that are perceived as taboo," she said, "but really are things that impact so many people's lives. I think covering queer and trans stories is the perfect example."
With a new Gallup report showing more young people identify as bisexual, here's a primer I wrote this fall about how the word goes beyond the binary — made clear in a manifesto back in the 90s — and is still very misunderstood.https://t.co/5hjYVHDMRA

— Alex Berg (@itsalexberg) February 25, 2021
The first on-air segment she ever hosted was a 2013 segment for HuffPost Live discussing how the LGBTQ community was beginning to reclaim the word "queer," as well as why she, herself, identified with the term.
"I encountered editors and even other LGBTQ people who were clutching their pearls because they couldn't believe people were so vocally claiming this term," Berg said.
Despite the confidence she conveys on-air and in her writing, covering these "taboo" issues hasn't always been easy for Berg.
"It was scary at first because it was also a time when I was starting to express and talk about my sexual orientation with my family," she said. "So to go out on air and talk about what queer meant to me, and why I identified that way, both for the public and then also to have to navigate those conversations with my family, that was definitely hard and scary."
Berg said the landscape has changed dramatically since she was first starting out. Still, she added, there is "plenty of room to grow," especially in mainstream media, where she said it can still sometimes be a struggle to convince editors that it is impossible to run out of LGBTQ stories.
JoJo Siwa said her girlfriend helped encourage her decision to open up about her identity. I'm so happy for them both, but I'm ecstatic for young LGBTQ+ girls — and girls who might not know who they are yet — who get to casually learn about it on television. https://t.co/vpj0DHlvLa

— Alex Berg (@itsalexberg) February 4, 2021
Looking toward the future, Berg hopes to have the opportunity to interview some high-ranking LGBTQ people in the Biden administration. She also hopes to tell more stories about queer and trans elders, as well as stories that celebrate the history of the LGBTQ rights movement.
"It's so important to understand your community's history and the people who have been fighting all along," she said.
Berg has had many high-profile interview subjects but said some of her favorite interviews have been those with everyday people who are simply passionate about sharing their stories.
"It's such a special responsibility to have when you're talking about really intimate personal stories," she said, "about identity, about people's bodies, about autonomy, and then getting to help people understand them better through your writing. That's something that has really attracted me to journalism."