Kate Winslet knows "at least four" actors who are "terrified" of coming out in Hollywood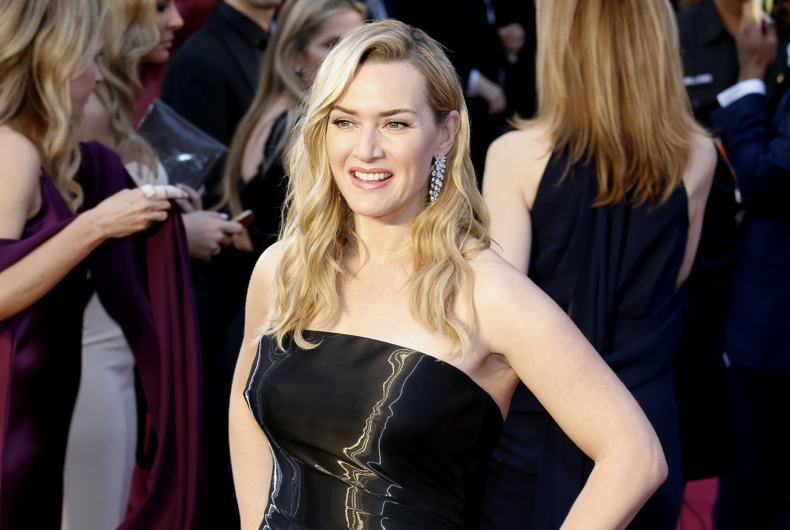 Kate Winslet at the 88th Annual Academy Awards held at the Hollywood & Highland Center in Hollywood, USA on February 28, 2016.Photo: Tinseltown / Shutterstock.com
Actor Kate Winslet is "done with not being honest" about LGBTQ people in Hollywood.
The world-acclaimed Titanic star dropped a bombshell claim in a recent interview: young LGBTQ actors in Hollywood are actively being encouraged to stay closeted if they want to maintain their careers. The topic was spurred from her most recent film, where she plays a lesbian character.
Related: John Waters lands a role in The Marvelous Mrs. Maisel

The British film Ammonite tells the story of a paleontologist, Mary Anning, an acclaimed fossil hunter overlooked throughout her career. Set in the 1840s,  Anning is played by Kate Winslet and depicted to be a lesbian in the film, although it's not conclusively known that she was in real life.
Winslet nor Saoirse Ronan, who depicts Anning's love interest Charlotte Murchison in the film, are out. But Winslet, in an interview with the Sunday Times, explains that she knows LGBTQ actresses weren't offered the role.
"We could have had a conversation about how I feel about playing a lesbian and possibly taking that role from somebody, but I'm done with not being honest about what my real opinions are," she said, "and I know the part was never offered to anybody else. In taking this part, I had an opportunity to bring an LGBTQ story into living rooms."
Then she revealed something else.
"I cannot tell you the number of young actors I know — some well-known, some starting out — who are terrified their sexuality will be revealed and that it will stand in the way of their being cast in straight roles," she told senior writer Jonathan Dean.
"Now that's fucked up."
She doesn't name anyone, but she share one apparent closeted actor's story. The actor is bisexual, and their agent "wouldn't publicize that" for the sake of their career.
"A well-known actor has just got an American agent and the agent said, 'I understand you are bisexual. I wouldn't publicize that.' I can think of at least four actors absolutely hiding their sexuality," she continued.
"It's painful. Because they fear being found out. And that's what they say. 'I don't want to be found out.'"
The stigma applies to "men more than anything," Winslet believes.
"It's bad news. Hollywood has to drop that dated crap of, 'Can he play straight because, apparently, he's gay?'" she stated. "That should be almost illegal. You would not believe how widespread it is."
She added, "It can't just be distilled to the question about gay actors playing gay parts. Because actors, in some cases, are choosing not to come out for personal reasons. And it's nobody's business. Perhaps privacy. Perhaps conditioning and shame."
Winslet hopes for "more people to speak the way I am" in order to combat the attitudes of Hollywood's agents and executives "for there to be less judgment, discrimination, and homophobia."
"I don't intend to browbeat or take on Hollywood. We're just talking about young actors who might be considering joining this profession, and finding a way to make it more open."
Ammonite, released late last year, is now streaming on Hulu, in addition to being available for purchase on Vudu, Amazon, and Google Play. It is nominated for a GLAAD Media Award for Outstanding Film with a Limited Release.
In the film, Charlotte's husband offers Anning money to let his wife tag along as her as a fossil hunting companion on England's cold ocean shore, neither Anning nor Charlotte seem particularly happy about it. But left to their labors, the two women realize how much they need one another's company, and their love threatens to upend their lives in a male-dominated society.
The film's writer and director Francis Lee, has admitted that there's no historical evidence of Anning's sexuality, leaving him free to re-imagine her as a lesbian, especially since so many queer figures have routinely been "straightened" out throughout history.