Kelly Loeffler is out as owner of WNBA team that protested against her. An out Black woman is in.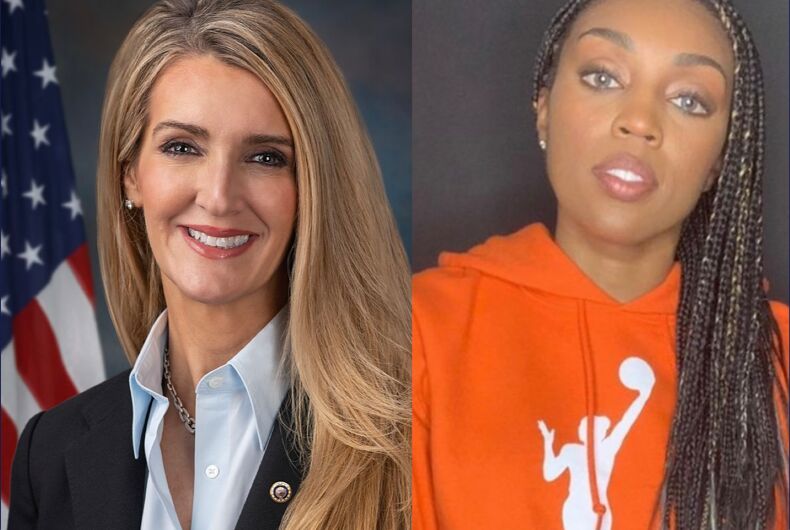 Kelly Loeffler (left) and Renee Montgomery (right)Photo: LGBTQ Nation Composite/U.S. Senate/Screenshot
It's been over a month since Kelly Loeffler lost her temporary U.S. Senate seat to Rev. Raphael Warnock. Now, it has been announced that she's out as co-owner of the Atlanta Dream, a team in the WNBA — a league that Loeffler criticized publicly for supporting Black Lives Matter. She's now out of her day job and side venture.
The new ownership group includes a pro-Black Lives Matter, former WNBA athlete who is out, putting a fitting footnote on Loeffler's journey from rising political figure to relative irrelevance.
Related: Did women basketball players kick off Raphael Warnock's winning Senate campaign in Georgia?

The league's board of governor recently approved the sale of the team to a three-person group of investors: Larry Gottesdiener, Suzanne Abair, and Renee Montgomery. Gottesdiener and Abair are real estate magnates, Gottesdiener serving as the Chairman of Northland Investment Corp. and Abair as COO and President.
Montgomery is a two-time WNBA champion who last played for the Dream, prior to opting out of the 2020 season to focus on social justice activism before retiring. She's also a NCAA champion from her time playing at the University of Connecticut, an actress, NBA analyst, and an on-air commentator and personality.
"My Dream has come true," Montgomery said in a statement announcing the sale on February 26. "Breaking barriers for minorities and women by being the first former WNBA player to have both a stake in ownership and a leadership role with the team is an opportunity that I take very seriously. I invite you to join me as the Dream builds momentum in Atlanta!"
According to both their social media, Montgomery is engaged to Sirena Grace, a singer-songwriter from Brooklyn, New York. Her new Dream co-owner Abair is also out, according to Outsports.
Gottesdiener told ESPN W, "The last year, the players of the Dream refused to just shut up and dribble. They found their collective voice and the world listened.
"We were inspired by these brave women who advocated sports and activism in the midst of the pandemic and we want to celebrate and honor them. We're particularly proud to be stewards of this team in this city at this time."
Montgomery follows former WNBA star Lisa Leslie as one of the few former WNBA player to become a team owner. She will also serve in the front office as the team's Vice President, becoming the first former WNBA player to serve in both capacities, marking a historic event for an out Black woman to cap Black History Month.
Loeffler was appointed by Georgia Gov. Brian Kemp (R) and sworn in on January 6, 2020 to fill in one year of retiring Sen. Johnny Isaakson (R-GA)'s Senate term until a special election could be held for the last two years. Loeffler was previously a finance executive from Illinois working for her husband, Jeffrey Sprecher, who now chairs the New York Stock Exchange (NYSE).
She bragged that she was the "most conservative" person in the Senate and was widely expected to be a shoo-in to retain the seat, consistently supporting Trump's agenda and submitting anti-LGBTQ proposals.
Then, when the WNBA dedicated the 2020 season to the Black Lives Matter movement in July, Loeffler sent a letter to WNBA Commissioner Cathy Engelbert complaining about the decision, saying that the league needed to respect the sensibilities of people who don't "share the same political views" as the anti-racist movement.
In response, several of the league's players protested against her ownership and the player's union called for the league to force her out. WNBA players wore "Vote Warnock" and "Black Lives Matter" T-shirts when the season started in August including some of the Dream's own players. WNBA star Sue Bird, who is out and a partner to soccer star Megan Rapinoe, devised the protest.
Rev. Warnock, a virtual underdog at the time, began shooting up in polls immediately after, and his numbers never came back down.
Loeffler publicly claimed she had never disagreed with anything Trump had said and her voting record reflected that, voting in favor of 100 percent of Trump-supported legislation until December. She further proved her allegiance to his base in September, when Loeffler introduced a bill to ban trans girls from school sports that could be interpreted to require genital exams for girls who want to compete in school sports.
It was also revealed that Loeffler, a multimillionaire, had been donating her $174,000 yearly salary to a particularly ugly anti-LGBTQ group and "pregnancy centers" meant to discourage women from having abortions.
She ultimately lost in a runoff election held on January 5, 2021, and the next day, a pro-Trump mob rioted and stormed the U.S. Capitol while her and other members of Congress were challenging the election results in Trump's favor.
After the Senate returned to the U.S. Capitol floor that night, Loeffler withdrew her objections to the presidential election and quietly faded away as her term ended on January 20.
Loeffler has now crawled back out to the spotlight, announcing last week that she is now starting a voter initiative that attempts to counter the pro-Democrat momentum started by Stacey Abrams and other activists in Georgia that helped cost her and David Perdue their Senate seats in runoff elections.
Loeffler had a 49 percent stake in the Dream since 2011, when she bought the team with philanthropist Mary Brock, the husband of Coca-Cola CEO John F. Brock. The Dream was founded in 2007 by Ron Terwilliger.
Brock and Loeffler said in a joint statement that they were "proud of what we accomplished and wish the team well in their next chapter."
"We will always value the hard work and dedication, and the memories, fans and friendships that sustained our commitment to the Atlanta Dream over the last decade," they added.
Terms of the sale were not disclosed by the Engelbert when approached by CNBC.
Editor's Note: A previous version of this article mis-identified Montgomery as the first former WNBA player to become a team owner. Montgomery is the first former WNBA player to become both an owner and executive in a WNBA team.
Firing your boss and buying her team, while also helping her lose her day job. That's a pretty heavy flex.

— Jay (@AverageBroShow) February 26, 2021