Kraft debuts pink candy-flavored mac & cheese for Valentine's Day. Why?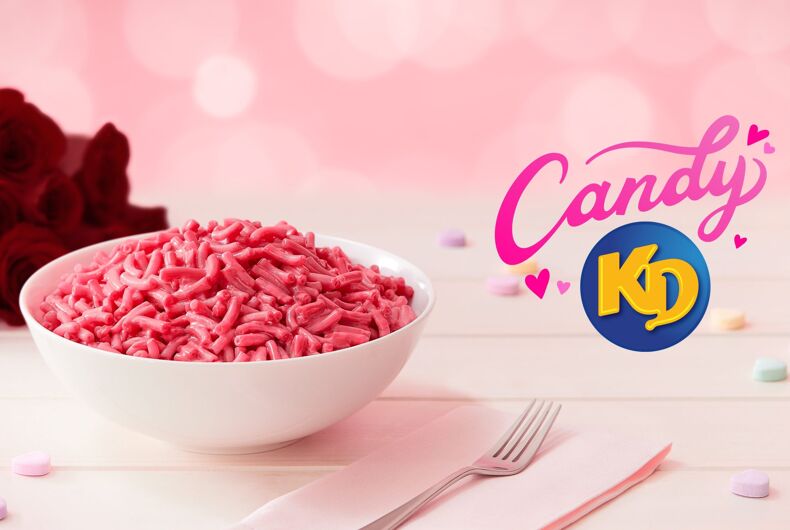 Kraft's latest offering is a little different.Photo: Kraft
Kraft Foods has revealed a special product to celebrate Valentine's Day and it has the internet gagging.
Pink, candy-flavored mac and cheese is now available and, yes, it is exactly what it sounds like.
Related: Pro wrestler defends gayest breakfast cereal ever with a spoonful of positivity
"Candy Kraft Mac & Cheese is made with the same cheesy Kraft Mac & Cheese Americans know and love," a press release reads, "but includes a candy flavor packet to turn the mac & cheese pink and add hints of sweet candy flavor."
"No more noodling on what gift to buy. There is no better way to show your love this Valentine's Day than saying 'you're the mac to my cheese' with Candy Kraft Mac & Cheese."
The company is giving away 1,000 boxes of the abomination. Even worse, if you flirt with the brand on Twitter, they might send you a box.
Because nothing says "love" quite like sweet-talking a food conglomerate on social media to score a box of pink candy-flavored mac and cheese for your partner.
The fact that you worked consent into this is really bubblin' our pot! #CandyKD

— Kraft Dinner (@kraftdinner) January 28, 2021
Here's a haiku back,
But there's not much room to write.
Shoot, we ran out of.

— Kraft Dinner (@kraftdinner) January 27, 2021