Leftwing activist calls gay mayor "little fa***t" & slurs Jews at rally about showing respect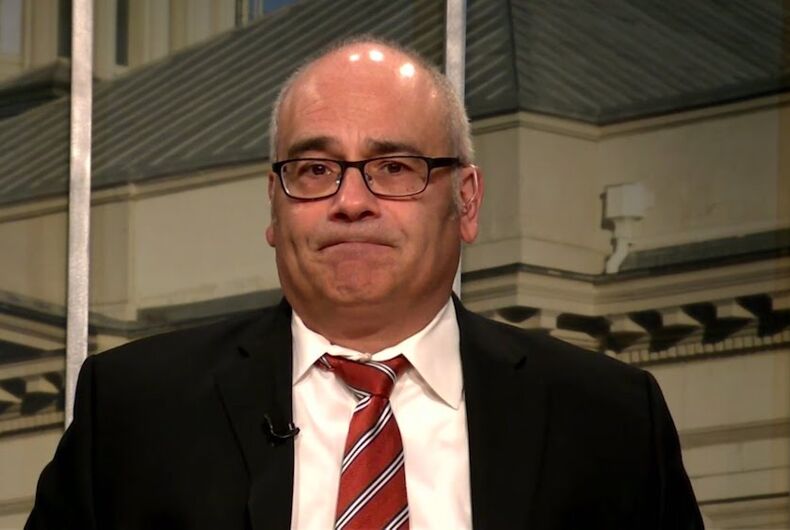 Trenton's gay Mayor Reed GuscioraPhoto: NJTV screenshot
The mayor of Trenton, New Jersey decried an activist who called him "this white boy mayor, this little faggot" at a rally in support of a city councilwoman.
"Hate should have no place in the Capital City," said Trenton Mayor Reed Gusciora (D), who is gay.
Related: Cory Booker's brother's child is his nonbinary 'niephew'
The hate speech happened at a rally this past Friday. An activist associated with the New Black Panther Party, Divine Allah, took the stage in support of City Council President Kathy McBride, who was called an "illiterate crackhead prostitute" by fellow City Council Member Jerell Blakeley. Both McBride and Blakeley are Black.
Blakeley's words became public last month after a court ordered transcripts from 2020 closed coronavirus meetings be made public. Blakeley apologized after his words were made public nearly a year after the meeting.
According to the transcripts, McBride called him a "disrespectful piece of shit" first.
A rally was held in support of McBride this past Friday and was co-organized by her son Corey Hayes, who said Blakeley's comments were "slanderous and demoralizing" and disrespectful to women.
At the rally, Allah took the stage and ranted about Mayor Gusciora, the city's first out gay mayor. He also called Jews "the true enemy."
McBride spoke after Allah's 13-minute speech, according to NJ.com, but did not address his comments.
"My understanding is that Council President set this event up to condemn hateful language and violence against women," Mayor Gusciora on Monday. "If so, I'm at a complete loss to why they allowed senseless homophobic and anti-Semitic vitriol to be spewed from the very steps of City Hall, which should be a beacon of equality and order to all City residents."
McBride has previously used anti-Semitic slurs, and Blakeley called a town hall meeting to condemn her comments at the time.
This isn't the first time Gusciora has faced homophobia while in public office. Council Member Robin Vaughn called him a "pedophile," a "woman," and a "bitch ass" in a 10-minute hateful conference call tirade in May 2020. She also told a city official to "continue to suck Reed Gusciora's dick all you want to, motherfucker."
New Jersey Gov. Phil Murphy (D) and Sens. Bob Menendez (D-NJ) and Cory Booker (D-NJ) all called for her to resign. But she refused, instead issuing a public apology.
"I apologize. That must be the first thing you hear from me," Vaughn said at the time. "I am deeply and specifically sorry for the language that has offended so many. It was also not my intent to attack anyone on the basis of any classification or personal preferences, but I should have been more sensitive to the potential implication of my words and how they might be perceived."
Vaughn also defended McBride's anti-Semitic comments and later apologized for doing so.