Lesbian minister announces she will challenge seditionist Congressman Madison Cawthorn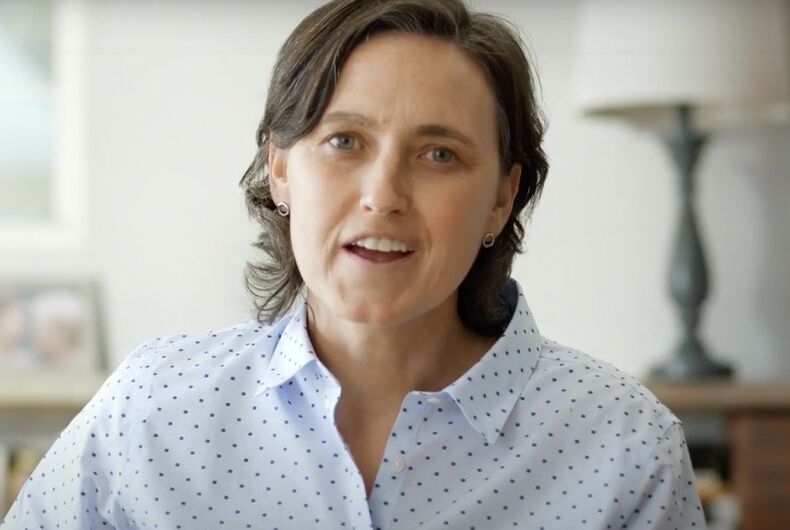 Jasmine Beach FerraraPhoto: Screenshot
Jasmine Beach-Ferrara isn't your typical Southern Democrat. But the lesbian minister and mom of three isn't running against a typical politician.
Beach-Ferrara will challenge Rep. Madison Cawthorn (R-NC) for his seat. The first-term congressman has been embroiled in controversy since announcing his run for office.
Related: How drag queen story hour & a boatload of money launched Marjorie Taylor Greene's political career
Cawthorn helped to instigate the MAGA riot at the Capitol building and has been accused of sexual harassment and predatory behavior. He has shown support for white supremacy and was exposed for lying about a car accident that left him paralyzed by his former friend, the driver of the automobile. He also claimed the accident derailed his plans to attend the Naval Academy, but his application had already been rejected before the accident.
"Not only did he spew dangerous conspiracy theories about our election and help fire up a violent crowd to attack our Capitol, he is more focused on self-promotion than serving Western North Carolinians," Beach-Ferrara says. "In Congress, I will go to work every day focusing on delivering on early childhood education, responding to the opioid crisis, protecting family farms and expanding economic opportunity—not generating self-serving headlines."
"I've heard 'you can't' all my life," Beach-Ferrara said in a tweet announcing her campaign. "I'm ready to prove the skeptics wrong again."
A Buncombe County Commissioner, she's no stranger to politics. And as the founding Executive Director of the LGBTQ civil rights group Campaign for Southern Equality, she knows how activism informs and pushes politicians forward. In fact, Beach-Ferrara says she's an "organizer to my core."
As a lesbian, a civil rights activist, a mom, and a Democrat, Beach-Ferrara doesn't know the meaning of the word "quit."
I'm Democrat Jasmine Beach-Ferrara and I'm running against Madison Cawthorn. As a gay woman, Christian minister, mom of 3, I've heard "you can't" all my life. I'm ready to prove the skeptics wrong again. Please retweet and ask everyone you know to follow this account to join us. pic.twitter.com/dJroXf3bWf

— Jasmine Beach-Ferrara (@jbeachferrara) March 3, 2021