Lil Nas X calls out the "crying nerds on the internet" who got his Satan shoes canceled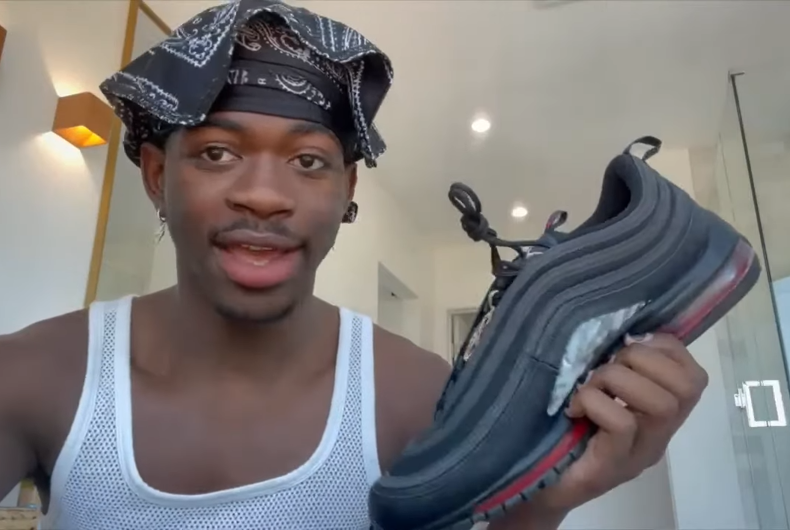 Lil Nas X with the Satan shoesPhoto: Screenshot/YouTube
A federal judge blocked Lil Nas X's Satan shoes from shipping out after a week of controversy that involved even the governor of South Dakota saying that the shoes will harm children's "God-given eternal soul." It's a symbolic victory since all but the last pair – the 666th – has already been sent to customers.
Nas has already clapped back at the controversy that resulted in the judge blocking the shoes, calling his critics "crying nerds on the internet" and denouncing what he called a violation of "freedom of expression."
Related: Lil Nas X mocks everyone panicking over his new song
Just after the release of his single "Montero (Call Me By Your Name)," Nas partnered with the boutique MSCHF to sell the shoes, which have a pentagram, an inverted cross, and allegedly contain human blood. The shoes cost $1018 (a Bible reference) and they are selling 666 of them.
The shoes sold out within minutes, in part because of outcry from Christian conservatives who accused the out musician of promoting Satanism. Even South Dakota Gov. Kristi Noem (R) said that Nas was putting children's "God-given eternal soul" at risk with the shoes.
The shoes themselves are Nike Air Max 97 sneakers that MSCHF bought and then modified, reselling them at a markup. And they still show Nike's trademark swoosh, even though Nike was not involved in their production and issued statements this week to the media to distance themselves from the shoes.
The corporation filed a federal lawsuit to get a judge to order a "permanently stop" to stop the sale of the Satan shoes, and yesterday Judge Eric Komitee issued a temporary restraining order to block MSCHF from shipping out any more of the shoes.
On Twitter, Nas was "upset," saying that it was a case of "freedom of expression gone out the window."
i haven't been upset until today, i feel like it's fucked up they have so much power they can get shoes cancelled. freedom of expression gone out the window. but that's gonna change soon.

— nope ? (@LilNasX) April 1, 2021
In another tweet, he blamed "crying nerds on the internet."
While the case is about trademark infringement, Nike's case is really about the outcry from conservative Christians.
Artists buying sneakers, decorating them, and re-selling them is a thing that already happens that companies like Nike are aware of. They usually don't try to stop artists from doing this because it's another market for their shoes.
But the Satan shoes led to calls of boycotts against Nike that made them afraid that their brand was being hurt. Their lawyers said they "submitted numerous [pieces of] evidence that some consumers are saying they will never buy Nike shoes ever again" due to the outcry.
Nike's case rests on the fact that their brand was hurt by the Satan shoes. The mere fact that their swoosh appears on the sneakers that MSCHF is selling doesn't show that Nike's brand is being hurt; the statements from the internet of people threatening to boycott Nike do.
That is, there's a decent chance Nike wouldn't have even filed the lawsuit if people like Gov. Noem hadn't made such a big deal about the shoes.
The order will stay in place until the case has actually worked its way through the legal system.