Lil Nas X hit #1 on Billboard charts & he's celebrating on Twitter as only he can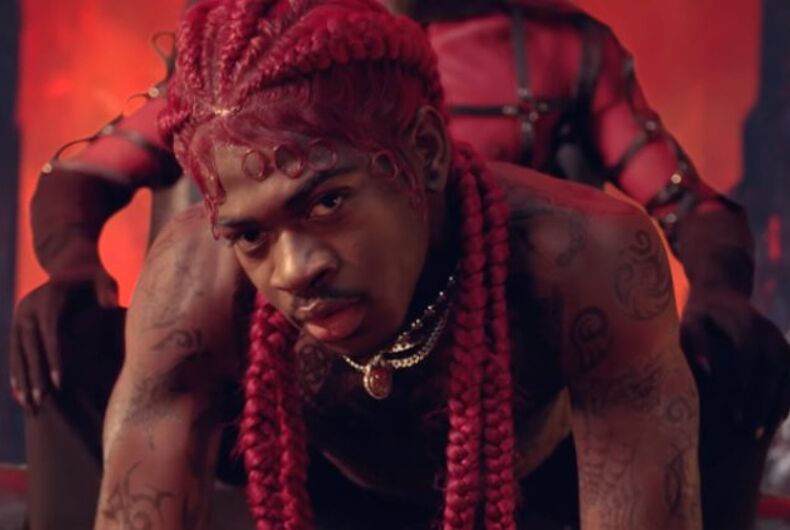 Lil Nas X in "Montero (Call Me By Your Name)"Photo: Screenshot
Lil Nas X's new song, "Montero (Call Me By Your Name)" debuted at number one on the Billboard Hot 100 songs chart and the out rapper is celebrating on social media, of course.
The song is his second single to hit the charts after "Old Town Road" held the top spot for a record-breaking 19 weeks.
Related: Lil Nas X mocks everyone panicking over his new song
It's also the first song to hit the top spot backed by a music video featuring a rapper giving the devil a lapdance and includes several graphic references to gay sex. The video spawned immediate outrage from the religious right who condemned the video and rapper.
Just after the release of the song, Nas partnered with the boutique MSCHF to sell "Satan" shoes that have a pentagram, an inverted cross, and allegedly contain human blood. The shoes cost $1018 (a Bible reference) and they were selling 666 of them before Nike sued over the modified sneakers.
The shoes sold out within minutes, in part because of outcry from Christian conservatives who accused the out musician of promoting Satanism. Even South Dakota Gov. Kristi Noem (R) said that Nas was putting children's "God-given eternal soul" at risk with the shoes.
A social media expert at promoting his own brand, Nas quickly started mocking everyone upset about the video, pointing out that Christians had told LGBTQ people they were going to hell for years.