Lindsey Graham claims he owns an AR-15 to fight off "the gangs" at his home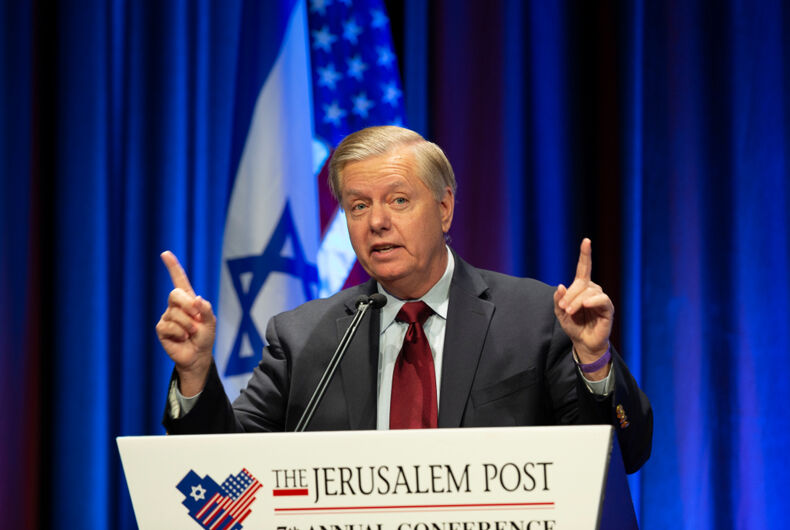 New York, NY – April 29, 2018: US Senator Lindsey Graham speaks during 7th Annual Jerusalem Post Conference at Marriott Marquis HotelPhoto: Shutterstock
Sen. Lindsey Graham (R-SC) is talking tough, insisting that he owns an AR-15 rifle and knows how to use it to defend himself from "the gangs."
Graham, who is allegedly known to D.C.-area male escorts as "Lady G," opposes gun control measures advocated by Democrats, including a ban on the gun and others like it. The gun has been used in half of the ten deadliest mass shootings in modern U.S. history.
Related: Lindsey Graham threatens to "talk until I fell over" to stop LGBTQ civil rights bill from passing
"I would challenge him [Sen. Majority Leader Chuck Schumer (D-NY)] to bring the assault weapons ban to the floor of the United States Senate. It won't get 50 votes, much less 60," Graham told Fox News's Chris Wallace.
"I own an AR-15. If there's a natural disaster in South Carolina where the cops can't protect my neighborhood, my house will be the last ones that the gangs will come to because I can defend myself."
While Graham can talk tough about hypothetical thugs, he did the same thing about former President Donald Trump until Trump won the 2016 presidential election. Graham was a big supporter of the Trump administration.
Twitter, predictably, had thoughts about the senator's bold stance and the sheer lunacy of his supposed worry about warlords taking over South Carolina after a hurricane.