Malcolm Kenyatta announces Senate campaign. He would be the first gay male senator.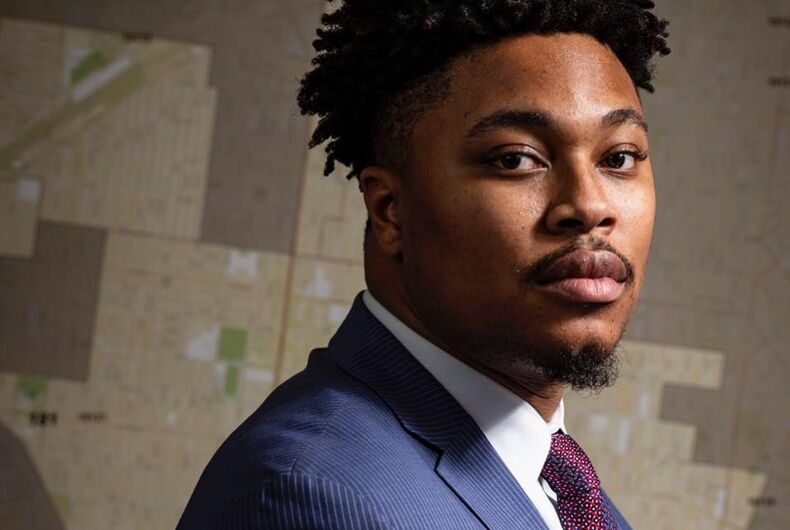 Malcolm KenyattaPhoto: Provided
Pennsylvania State Rep. Malcolm Kenyatta (D) just announced that he's running for the U.S. Senate in 2022. If he wins, he would be the first out gay man in the Senate.
Kenyatta announced his campaign with a video posted to Twitter yesterday, which opened with him leaving his home and getting a kiss from his fiance, Dr. Matt Miller.
Related: Black gay Pennsylvania Rep. Malcolm Kenyatta is running for reelection
"I know what it's like to see an eviction notice, to work a minimum wage job," he says in the announcement.
The video then shows footage from the January 6 MAGA riots at the Capitol and other white nationalist protests.
"We face a question of who we want to be as a county," he says. "But we also face a recognition: what's been broken, has been broken for more than four years."
He ends the video by talking about "a new day, where no matter who you are, who you love, how you worship, you get a fair shot."
If Kenyatta wins, he would be the first out gay male senator. The U.S. Senate has had only two out members: Sen. Tammy Baldwin (D-WI) and Sen. Kyrsten Sinema (D-AZ), and the only known gay male senator was Sen. Harris Wofford (D-PA), who came out publicly two decades after he left office.
He would also be the first out Black senator and the first Black senator from the state of Pennsylvania.
Last year at the Democratic National Convention, Kenyatta was one of 17 rising star Democrats to deliver the keynote address and one of the first three out LGBTQ people to ever do so.
"Joe Biden was the first national figure to support me and my family," Kenyatta said.
"I appreciate you, man," his smiling fiance said.
In 2018, he became the first LGBTQ person of color to be elected to the State General Assembly at the age of 28 in a landslide victory.
"As somebody who inhabits all of these intersections, growing up in an incredibly poor neighborhood to a working poor family, as one of only two openly LGBTQ members of the Pennsylvania General Assembly and the only one that's a person of color, I see all the different ways that frankly our systems are broken," he told LGBTQ Nation last year.