Man proposes to his boyfriend 40,000 feet in the air. The other passengers loved it.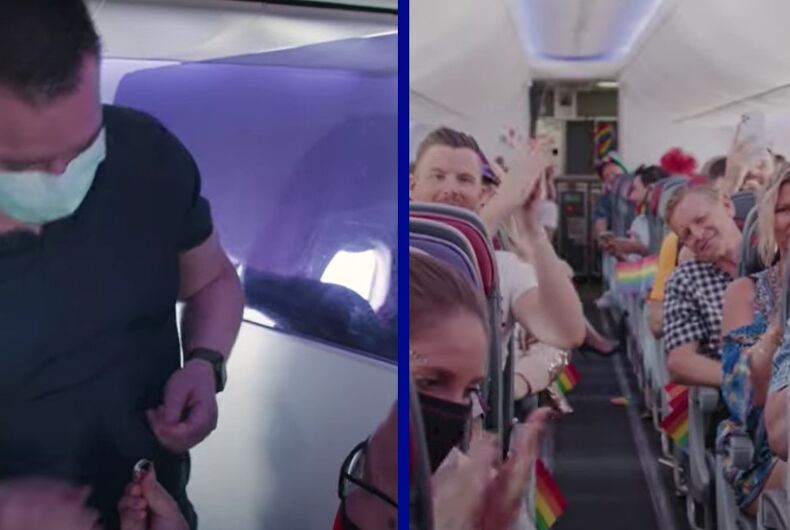 Chris Lai proposing to Cedric Thiery on the flightPhoto: Screenshot/Virgin Australia
A gay couple got engaged on a flight from LA to Sydney, and the other passengers loved it.
Passengers on Virgin Australia's first Pride Flight from Brisbane to Sydney – ahead of the city's Mardi Gras, its major LGBTQ celebration – got to bear witness to a sky-high proposal.
Related: Lesbian couple's marriage proposal video goes viral thanks to one really curious kid
Chris Lai, who's Australian, said that he wanted to propose to his fiance Cedric Thiery on a plane because the couple has a "passion in flying and sky is home for me."
So he got on the flight's intercom and said: "Cedric, I am the person I am today because of you."
"On my 110th Virgin Australia flight and my first Pride Flight, I only have one question for you, Cedric," he said, before putting on his rainbow mask and carrying a ring to Thiery.
He got down on one knee and said: "Would you marry me?" Of course, Thiery said yes.
The other 120 passengers cheered as the men kissed through their masks.
Editor's Note: An earlier version of this article incorrectly said that the flight started in LA, when it actually started in Brisbane. We regret the error.