Marjorie Taylor Greene calls gay Jewish Congressman "Rep. Mussolini"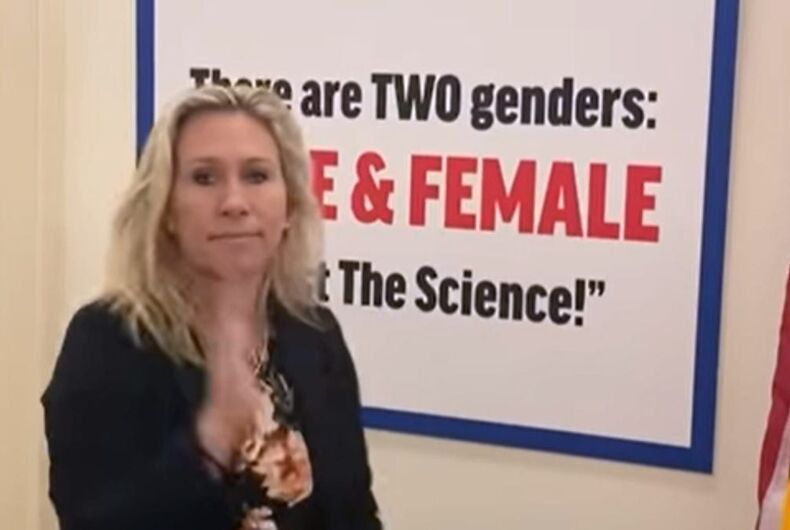 Rep. Marjorie Taylor Greene smirks next to her transphobic sign.Photo: Screenshot
Rep. Marjorie Taylor Greene (R-GA) – often called the "QAnon Rep" – called out gay, Jewish, and Italian Rep. David Cicilline (D-RI) "Rep. Mussolini" in an interview because he's trying to get her to stop trolling Congress and wasting everyone's time.
"Marjorie Taylor Greene can get lost," he said in response.
Related: How drag queen story hour & a boatload of money launched Marjorie Taylor Greene's political career
The issue is Greene's repeated use of motions to adjourn to stall legislation in Congress, something she started doing when the House was debating the LGBTQ Equality Act.
On both days that the House addressed the Equality Act, Greene introduced a motion to adjourn and then demanded a full roll call vote. That would have closed Congress for the day if it passed because she would rather shut down Congress than let LGBTQ people get federal civil rights protections.
But her motions were never going to pass because Democrats control Congress. Instead, she just forced all the other members of the House to vote on her motion, taking them away from their actual work and wasting over an hour of the House's time each time she did it.
This isn't a big deal to her since she doesn't have much else to do; in February she was stripped of her committee assignments because of her history of violent conspiracy theory rhetoric.
Now she has pulled the same stunt four times, including when the House was debating the COVID relief bill this week.
Rep. Cicilline has had enough – he said this week that he's going to introduce a rule change that would only allow representatives who are in committees to introduce motions to adjourn, which effectively means that everyone except Greene will be allowed to do so.
Newsweek asked Greene what she thought about Cicilline's attempt to take away her favorite toy, and she said: "Do you mean Rep. Mussolini? Not only did Democrats unilaterally strip away my committees, now they want to remove any powers I have to represent my district. The Democrats run the House of Hypocrites with tyrannical control."
Benito Mussolini was the fascist leader of Italy during World War II and he helped implement the Racial Laws before the onset of the war to oppress Jews. Italian authorities under Mussolini provided key support to Nazi Germany during the Holocaust, and the fascist regime also targeted gay men for persecution.
It's unclear if Greene was taunting Cicilline with the Mussolini reference because he's gay and Jewish, if she was comparing him to the dictator because he is of Italian heritage, or if she has no idea who Mussolini is other than a generic bad person. Either way, he has no time for her.
"I'm an Italian and a Jew," Cicilline tweeted in response. "Mussolini was a fascist dictator in league with Adolf Hitler, who murdered six million Jews."
I'm an Italian and a Jew.

Mussolini was a fascist dictator in league with Adolf Hitler, who murdered six million Jews.

Marjorie Taylor Greene can get lost.

— David Cicilline (@davidcicilline) March 11, 2021
It's not surprising that Greene first started pulling this stunt when Congress was debating LGBTQ legislation. Her protests of Drag Queen Story Hours helped her rise to prominence among the online right, accusing LGBTQ people of "brainwashing" children to give them "gender confusion" and even calling a drag queen an "abomination" at a protest.
And she's still at it, calling the bill that would ban discrimination against LGBTQ people "horrific" and "disgusting."
On International Women's Day, I rose to condemn the so-called "Equality" Act.

This disgusting bill destroys the rights of women and girls across America and sets a horrific precedent for the rest of the world. pic.twitter.com/qswerFcnhH

— Rep. Marjorie Taylor Greene (@RepMTG) March 8, 2021