Marjorie Taylor Greene tried to shut down Congress to avoid LGBTQ rights bill. The GOP helped her.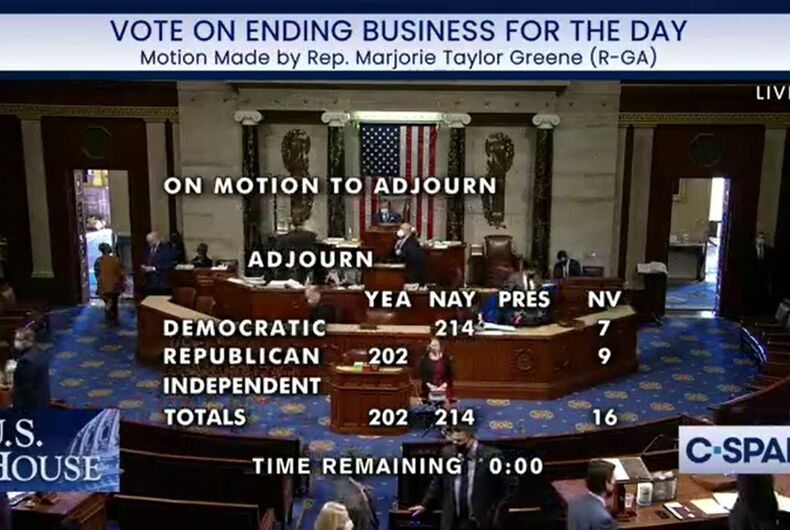 An attempt by Congresswoman Marjorie Taylor Greene to adjourn the House of Representatives failed on a party line vote.Photo: Screenshot
Rep. Marjorie Taylor Greene (R-GA) is the most controversial member of Congress elected in 2020. The seditionist QAnon believer was stripped of her committee assignments earlier this year for publicly supporting the assassination of House Speaker Nancy Pelosi (D-CA).
While Greene loves to talk about all sorts of wild conspiracy theories – from election fraud to space lasers wielded by Jewish people to start wildfires – one of her favorite topics is exactly how much she loathes transgender people.
Related: Are LGBTQ people the last minority group you can legally discriminate against in America?
So much so, she used transphobia as her defense when trying to keep her committee assignments. It didn't work.
Greene is so entrenched in her opposition to basic civil rights protections, she tried to shut down the House of Representatives this afternoon to prevent debate on the bill. And she did it with the full support of her GOP colleagues.
"Marjorie Taylor Greene is trying to adjourn the House and end official business for the day because she opposes the Equality Act, which would prohibit workplace discrimination against LGBTQ Americans," Rep. Don Beyer (D-VA) tweeted. "She just made a long bigoted speech on the House floor attacking transgender people."
In a later post, he pointed out that "every House Republican who has voted so far backed Marjorie Taylor Greene in trying to adjourn the House to block a bill protecting LGBTQ Americans. Greene made it very clear that this was about bigotry against trans people. House Republicans are standing with her."
The Equality Act has been introduced in every session of Congress for years now, only passing in the House in 2019 before the Republican-controlled Senate refused to even vote on it. The proposed law would amend the Civil Rights Act of 1964 to protect LGBTQ people from discrimination in employment, housing, public accommodations, public education, federal funding, credit, and other areas.
Greene is adamantly opposed to the bill and tweeted a screed chock full of inane claims about what the bill would do earlier this month.
"The so called #EqualityAct is evil," she tweeted. "Disguised as #LGBT rights, it expands governmental regulatory reach that destroys women's rights, religious rights, and rights of the unborn. It is a direct attack on God's creation, He created us male and female."
"Republicans voting lock-step with a seditionist in order to further transphobia is literally the least surprising thing that's happened this year," one Twitter user, eck, replied to Beyer.
Greene's measure failed 202-214. Every single Republican representative voted with her.
Update: every House Republican who has voted so far backed Marjorie Taylor Greene in trying to adjourn the House to block a bill protecting LGBTQ Americans.

Greene made it very clear that this was about bigotry against trans people. House Republicans are standing with her. pic.twitter.com/KRMdZ78rEb

— Rep. Don Beyer (@RepDonBeyer) February 24, 2021
Republicans voting lock-step with a seditionist in order to further transphobia is literally the least surprising thing that's happened this year.

— ecks (@ecks) February 24, 2021