Matt Gaetz denied having inappropriate relationship with teen boy. Is there an underage girl too?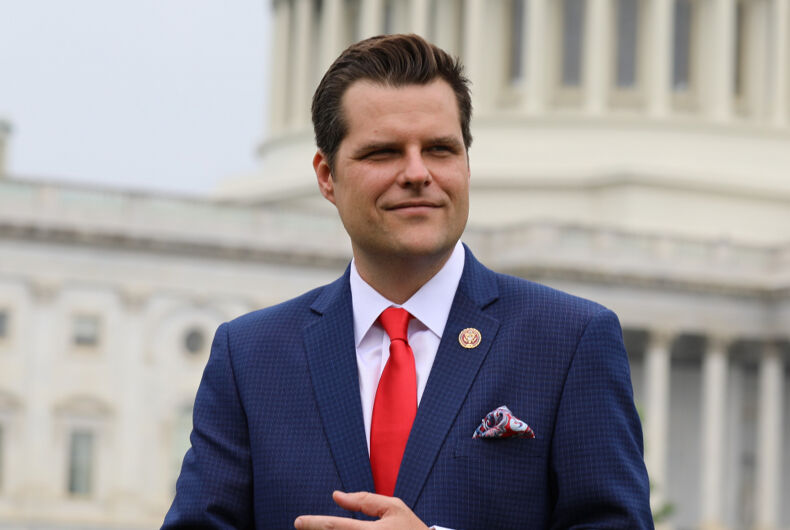 Rep. Matt Gaetz (R-FL)Photo: Congressional photo
Rep. Matt Gaetz (R-FL) is no stranger to controversy, but the past 24 hours have set a new standard. A bombshell report in the New York Times claims he is under investigation by the Department of Justice (DOJ) official over his relationship with a teenage girl.
Last year, a mysterious teen boy turned up from Gaetz's past that the far-right congressman claimed he considered his "son." Gaetz had avoided even mentioning Nestor Galbán, now 19-years-old, during his political career in state and national politics.
Related: Rep. Matt Gaetz calls on Donald Trump to pardon "Tiger King" Joe Exotic to own the libs
The controversial congressman is not Galbán's biological father and did not adopt him. Galbán was 12-years-old when he immigrated from Cuba and met Gaetz who has said the boy was his former girlfriend's child. He did not name the boy's mother and refused to talk about it beyond a brief statement.
"Our relationship as a family is defined by our love for each other, not by any paperwork," the anti-LGBTQ congressman said at the time.
"He is a part of my family story," Gaetz told People Magazine. "My work with Nestor, our family, no element of my public service could compare to the joy that our family has brought me."
He claimed he was unclear what the current allegations actually entailed, telling the Times, "I only know that it has to do with women."
The Times report says he is being investigated for his relationship with a 17-year-old and whether he paid for her to travel with him in exchange for sex.
Gaetz has said he is the victim of an extortion plot by an unnamed DOJ official and spent the afternoon and evening defending himself in increasingly strange interviews that have been widely mocked online.
Gaetz claimed his father was "wearing a wire" to help officials catch the person extorting him and denied that there were photos of him with child prostitutes. No one accused him of that.
But Gaetz is close with a Florida man who has been arrested and indicted for sex trafficking. Gaetz was the only member of Congress to vote against a bill that increased funding to fight human trafficking.
"The allegations against me are as searing as they are false," Gaetz told Axios. "I believe that there are people at the Department of Justice who are trying to criminalize my sexual conduct, you know when I was a single guy."
"I have definitely, in my single days, provided for women I've dated. You know, I've paid for flights, for hotel rooms. I've been, you know, generous as a partner. I think someone is trying to make that look criminal when it is not."
An off-the-rails interview with Fox pundit Tucker Carlson left the far-right pundit best known for defending the GOP at all cost flummoxed.
"That was one of the weirdest interviews I've ever conducted," Carlson said at the conclusion. "I don't think that clarified much, but it certainly showed this is a deeply interesting story, and we'll be following it. I don't quite understand it."
After all we have learned Epstein, hastert, Delia, buck, etc – isn't it rational to consider abuse as a potential option? When there's smoke there's fire, and Gaetz is a major creep with a history of crime.

— Mr. Shickadance (@MrShickadance9) June 19, 2020
Where there's smoke there's fire. Gaetz from his original DUI till his outright lies in the house has been a story of outlandish privilege. He will do whatever he needs to gain power.

— Mitch Pendraggin (@RandoRandersen) January 15, 2021
Wow. Back from commercial, Tucker Carlson proclaims that the interview he just conducted with Gaetz was "one of the weirdest interviews I've ever conducted." pic.twitter.com/85Fnyv4Km9

— Aaron Rupar (@atrupar) March 31, 2021