Military to release new trans-inclusive policies to reverse Trump's military ban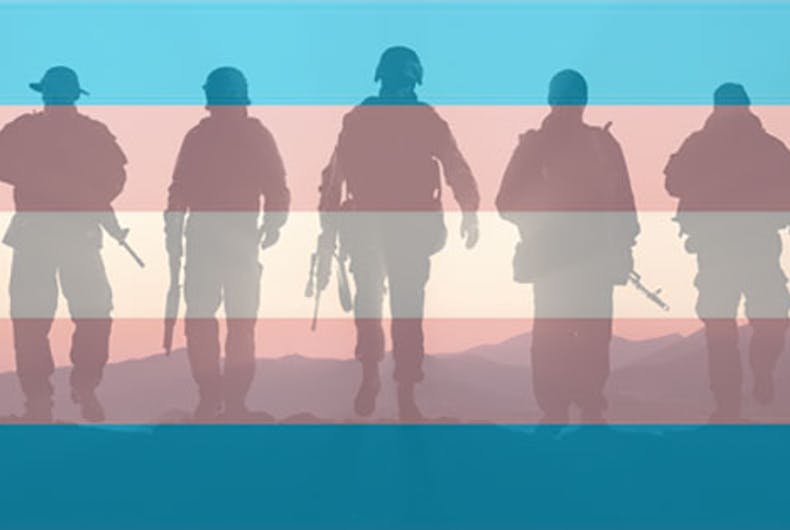 Transgender service members are a valuable part of America's militaryPhoto: images: Shutterstock; composite: LGBTQ Nation
The Department of Defense will issue new rules to expand benefits and protections for transgender service members, sweeping away vestiges of Donald Trump's transgender military ban.
An unnamed official told the AP today that the upcoming measures will allow transgender people to serve as their gender, allow trans service members to get gender affirming health care, and ban discrimination based on gender identity.
Related: Joe Biden's advocacy encouraged him to come out. Now he's running Biden's social media.
The new guidelines are a result of a Pentagon review that began when Defense Secretary Lloyd Austin started his job in January and said that the trans military ban was ending.
"This question of how to enable all qualified Americans to serve in the military is easily answered by recognizing our core values," Austin said in a statement. "America is stronger, at home and around the world, when it is inclusive. The military is no exception. Allowing all qualified Americans to serve their country in uniform is better for the military and better for the country because an inclusive force is a more effective force. Simply put, it's the right thing to do and is in our national interest."
Austin gave the military two months to finalize a plan for regulations it will follow for including transgender people. He also said that the Pentagon would review the records of service members who were discharged under the trans military ban.
The Obama administration opened up military service to transgender people in 2016, and the policies that the Pentagon official discussed today are similar to those put in place under Obama.
But a year later, Donald Trump announced a trans military ban via tweet in 2017. "Our military must be focused on decisive and overwhelming victory and cannot be burdened with the tremendous medical costs and disruption that transgender in the military would entail," Trump declared.
How the ban would be implemented was unclear, since Trump had given the Pentagon no heads up that his tweet was coming.
The announcement was met with immediate opposition from Democrats and even some Republicans. Even the late Sen. John McCain (R-AZ), who dragged his feet over the repeal of Don't Ask, Don't Tell, called it "a step in the wrong direction." All four service chiefs also signaled their support for transgender service members. 
Federal courts issued injunctions against the ban. By 2018, the administration went back to the drawing board. This time, then-Vice President Mike Pence and anti-transgender activists Ryan Anderson and Tony Perkins helped shape a new approach.
This time around, the revised policy was able to succeed because the Supreme Court ruled in favor of the administration, overturning rulings against the ban from lower courts. As a result, the ban took effect in April 2019. It effectively prohibited trans people from enlisting and put multiple restrictions on trans military personnel who were already serving.
Ending the transgender military ban was a key promise of the Biden/Harris campaign.