Missouri Republicans block repeal of state's marriage equality ban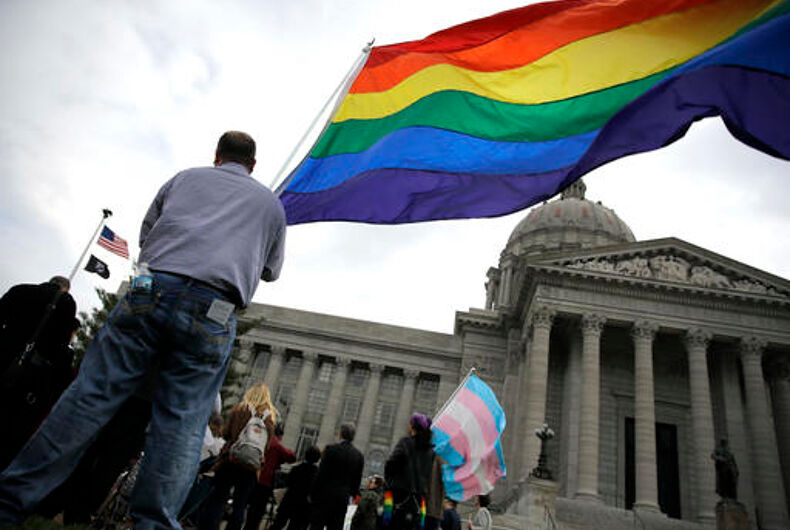 FILE – In this March 31, 2016, file photo, gay-rights supporter Mathew "Skippy" Mauldin holds a flag during a gay rights rally outside the Capitol in Jefferson City, Mo. A Republican Missouri lawmaker says he has a solution to end tense debates over same-sex marriage. Rep. T.J. Berry wants to take government out of marriage and leave it to houses of worship by classifying such legal partnerships as domestic unions. Photo: AP Photo/Jeff Roberson, File
The GOP-controlled Missouri House of Representatives refused to repeal the state's now-defunct ban on same-sex marriage.
While Democratic members of the house sought to do so, Republican members argued against removing the language despite the fact that the statute is already invalid and Republicans have control of both chambers of the Missouri legislature.
Related: This video destroys Republican support for transgender sports bans
Reviewing and removing defunct passages to Missouri law is a common part of each House session. They do so by creating House Revision Bill 1, with amendments to previous statutes.
Out state Rep. Tracy McCreery (D) motioned to add an amendment during the bill's consideration last week. The amendment sought to remove Missouri Statute 451.022, which formally dictated that "any purported marriage not between a man and a woman is invalid" and banned the issuance of same-sex marriage certificates.
This statute was invalidated, along many same-sex marriage bans, by the Supreme Court's 2015 ruling in Obergefell v. Hodges.
Republicans shot McCreery down, using a technicality to defeat the measure.
Rep. Dan Shaul (R), the sponsor of House Revision Bill 1, criticized McCreery and others for bringing it up during this bill's consideration. It was reportedly found it to be a "violation of procedure."
The Joint Committee on Legislative Research was responsible for choosing which defunct laws would be formally repealed, and since they didn't select the Statute 451.022, Shaul argued that it should stay on the books. He noted that the idea has been floated about seven times in recent years.
"There are members on the committee that could have asked it to be added… it wasn't even defeated — it wasn't even asked to be put on by the committee," Shaul complained.
He implored proponents of repealing the same-sex marriage ban to file their own bill, go through the entire legislative process for the proposal on its own, and hope it pass the Republican-majority legislature.
"Rather than rely on a committee, why don't they just file the bill?" Shaul asked.
State Sen. Greg Razer (D), the only out member of either chamber, expressed disappointment with the outcome, which has become par for the course for pro-LGBTQ proposals in both chambers under GOP leadership.
"We vote on banning discrimination of all sorts of bizarre things," Razer told the Columbia Missourian. "We can never come around to finding a way to vote on banning discrimination against people like me."
McCreery said in support of the measure, "I want Missouri to be a place where people can live and work and go to school and love whoever they want to love.
"I think that by striking this antiquated language it sends a message that the legislature is trying to make Missouri a more welcoming place."
There is also a ban on same-sex marriage in the state's constitution, but removing language from there would require the vote of the citizens of Missouri.
Missouri's senate has had a GOP-majority since 2001, and its house since 2003. Outside of a Democrat governorship between 2009 and 2016, all state legislative control has belonged to the Republicans since 2005.
Agree with Senator @gregrazer 100%- #moleg should be moving to protect LGBTQ Missourians from discrimination.

— Tracy McCreery (@TracyMcCreery) March 25, 2021
Rep. @TracyMcCreery wanted to offer an amendment that would strike out unconstitutional language in Missouri statute that bans same-sex marriage.

Republicans blocked the effort, an affront to the U.S. Constitution and the LGBTQ community. #moleg

— Missouri House Democratic Caucus (@MOLegDems) March 24, 2021