Mr. Potato Head is going gender neutral & conservatives' heads are exploding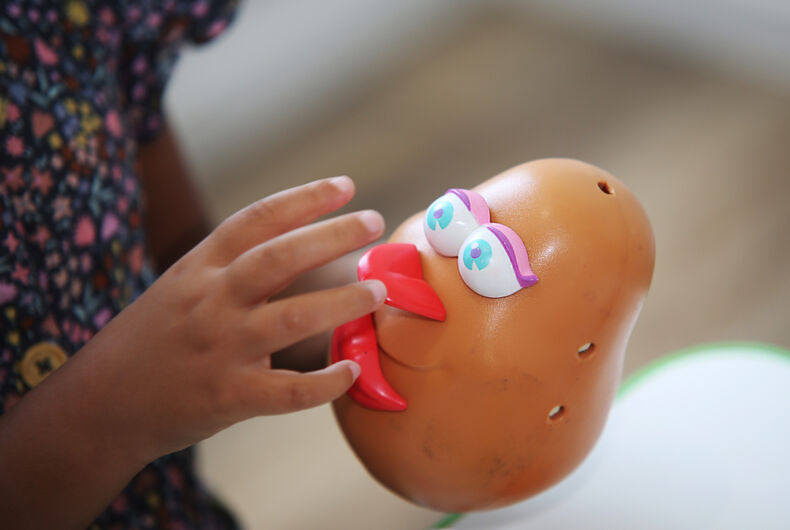 Coffs Harbour, NSW / Australia – Jan 2nd 2020: A child plays with a Mrs. Potato Head toy as part of a speech therapy session.Photo: Shutterstock
UPDATE: Hasbro has clarified that the Mr. and Mrs. Potato Head characters will still be available and that the brand name will become "Potato Head" instead of "Mr. Potato Head."
Toymaker Hasbro has announced that Mr. Potato Head is going gender-neutral by dropping the "Mr." and conservatives are flipping out.
The decades-old popular toy – previously divided between Mr. and Mrs. Potato Head dolls – is a plastic tuber with plug-in body parts. None of them are genitalia.
Related: Christian conservatives hate these gender-free dolls, but this drag queen thinks they're lit
"It's a potato," Ali Mierzejewski, editor in chief at toy review site The Toy Insider, told the AP in a brilliant use of understatement.
Mierzejewski notes that "kids like to see themselves in the toys they are playing with" and Potato Head is simply joining other toys that are shedding unnecessary gender labels or diversifying the toy lines. Mattel released Creatable World, a gender-neutral doll line, last year.
"By offering a toy that exists outside of the binary of male and female," Rich Ferraro, GLAAD's Chief Communications Officer, tells LGBTQ Nation, "Hasbro is helping kids to simply see toys as toys, which encourages them to be their authentic selves outside of the pressures of traditional gender norms."
Conservatives, however, are apparently keenly invested in the toy for kindergartners and their moral outrage over a piece of lumpy brown plastic has LGBTQ people laughing. Twitter has lit up with hilarious mockery of the rightwingers perturbed over a plastic potato.