Multiple ads including LGBTQ people will air during the Super Bowl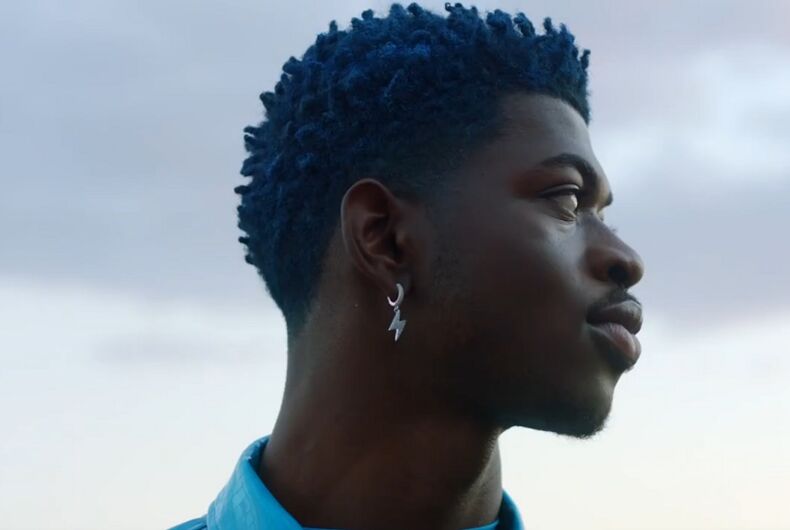 Lil Nas X in a 2020 Super Bowl ad for LogitechPhoto: YouTube screenshot
Today is Super Bowl LV (55), the latest championship game of the National Football League (NFL). The game and accompanying show will air on CBS live from Tampa, Florida, and broadcast on Westwood One Radio.
As usual, everyone's eye will be on the entertainment shown between downs, just as much as they may be concerned about what's happening on the football field.
Related: This NFL quarterback did a video promoting a campaign from antigay groups to 'share God's love'
GLAAD reports that there are at least four ads with inclusion of or representation for LGBTQ people. There could be more that are not already announced, but that's significantly down from the 11 commercials shown last year. ""More brands should now step up year round, as including LGBTQ people in ads is good for business and good for the world," GLAAD President and CEO Sarah Kate Ellis said in a statement.
"GLAAD is working to grow the quality and the quantity of LGBTQ people in advertising, as it can have a profound impact on LGBTQ visibility and acceptance, especially during cultural events like the Super Bowl," Ellis added.
One of this year's LGBTQ-representing ads, complete with rainbows, drag performers, and Lil Nas X wearing nail polish, is a spot for computer and software company Logitech. It even includes a sample of Nas's yet-to-be released single, "Montero (Call Me By Your Name)," a reference to the 2017 Armie Hammer and Timothée Chalamet gay drama.
"I got my start posting my songs and videos on social media; it opened up the world to me," Nas said in a statement. "Logitech and I both want to support creators who are not afraid to be themselves, who need to speak their mind and share their passion."
Last year, Nas appeared in an ad for Cool Ranch Doritos during the Super Bowl as well.
Out actor and creator of the TV show Schitt's Creek, Dan Levy, is featured in a funny turn leading an M&M's commercial.
This follows up his time hosting Saturday Night Live just last night, continuing his post-Schitt's Creek streak that has earned him and others multiple Academy Awards, among other accolades.
An ad for Michelob ULTRA features out tennis legend Billie Jean King, shown among several celebrities and athletes such as Serena Williams.
Last but not least, an ad with drag entertainer RuPaul will be (a brief) part of the CBS brand's adjustments as they continue to unify assets under CBSViacom, the result of two megacorporation coming together in a merger.
RuPaul's Drag Race airs primarily on Logo and VH1, two CBSViacom properties.
The company's streaming service, CBS All Access, is becoming Paramount+.
RuPaul was previously one of the first drag queens to appear in a Super Bowl advertisement, promoting the then-online company Webex in 2000.
In 2020, a Super Bowl ad spot cost approximately US$5.6 Million. That cost has remained the same in 2021, according to most reports, despite the economic turmoil of the last year.
Last year, NFL assistant coach Katie Sowers not only appeared in an ad airing through the NFL playoffs, she became the first out LGBTQ person to participate in the Super Bowl, as a member of the staff of the San Francisco 49ers. Her tenure with the 49ers ended this offseason, and there's no out participants on either teams' roster or coaching staff, currently.
For Super Bowl LV, the league's defending champions Kansas City Chiefs, led by quarterback Patrick Mahomes, will take on the Tampa Bay Buccaneers, led by ex-Patriots quarterback and five-time champion Tom Brady. The Buccaneers become the first team to play a Super Bowl in their home stadium.
H.E.R. will perform "America the Beautiful," Eric Church and Jazmine Sullivan will perform the national anthem, and the halftime show will be headlined by The Weeknd. The latter has pledged to keep the show "PG-rated" and said he didn't have any planned guests for the 15-minute set. National Poet Laurate Amanda Gorman, coming off her widely-acclaimed reading at the Inauguration of Joe Biden, will recite a poem as well.
Prior to the game, out entertainer Miley Cyrus will headline the TikTok Tailgate pre-game festivities, partially aired on CBS and shown in its entirety on TikTok, the social network. Cyrus came out as pansexual in 2015. That year, she helped found the Happy Hippie Foundation to help homeless and LGBTQ youth.
After the Super Bowl, CBS will follow up one of the year's most-watched broadcasts with the series premiere of The Equalizer, its new crime drama series starring Queen Latifah as a gun-ho vigilante for justice, alongside Chris Noth, Tory Kittles, and Lorraine Toussaint. Queen Latifah has not had a huge "coming out" moment, but many assume that she's out to who matters, although she has also openly talked about women she's attracted to.