Nevada lawmaker Sarah Peters comes out as pansexual in moving speech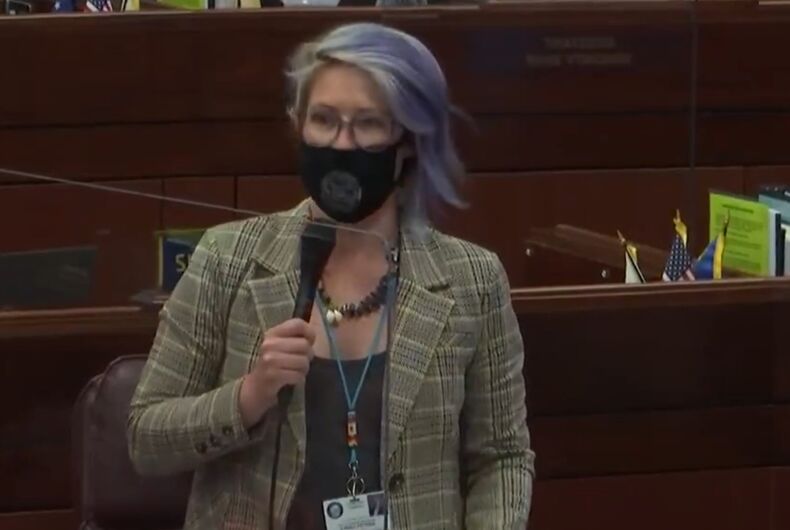 Assemblymember Sara PetersPhoto: Twitter screenshot/@assemblydems
Nevada Assemblymember Sarah Peters (D) came out as pansexual during a floor speech meant to honor LGBT+ Health Awareness Week.
"Today, as a pansexual, cisgender woman, I stand out for equity and remind us to be inclusive in our LGBT+ community as we work to make Nevada a more equitable place," she said in the speech
Related: How one woman's bad reaction to her daughter's coming out led to nationwide marriage equality
She started her speech by praising her state for the progress it has made on LGBTQ equality, but then she noted that LGBTQ people "continue to encounter barriers and face discrimination based on their orientation or gender identity in daily life."
"Homophobia, stigma, and discrimination against the LGBTQ+ community continue to exist in the United States and can adversely impact health outcomes," Peters said, bringing up medical discrimination and lack of insurance among LGBTQ people.
After discussing the work public health officials in the state have been doing around LGBTQ people and COVID, she came out.
Assembly Democrats shared the video of her speech on Twitter and said they are "incredibly proud of her courage and advocacy for #LGBTQ+ community!"
On Twitter, Peters wrote about the support she has gotten online and how "being celebrated for my queerness is weird."
"Being bisexual and pansexual comes with so much guilt and questioning," she tweeted. "Am I queer enough? Am I gay enough? What if I end up heteronormative, am I straight? Y'all, we are all enough and worth celebrating!"
Hi. Being celebrated for my queerness is weird. Being bisexual and pansexual comes with so much guilt and questioning. Am I queer enough? Am I gay enough? What if I end up heteronormative, am I straight? Y'all, we are all enough and worth celebrating! ?️‍? https://t.co/xIjUnFQJxv

— Sarah Peters (@VoteSarahPeters) March 26, 2021