Niecy Nash tells Ellen about marrying her "hersband" & why she won't label her sexuality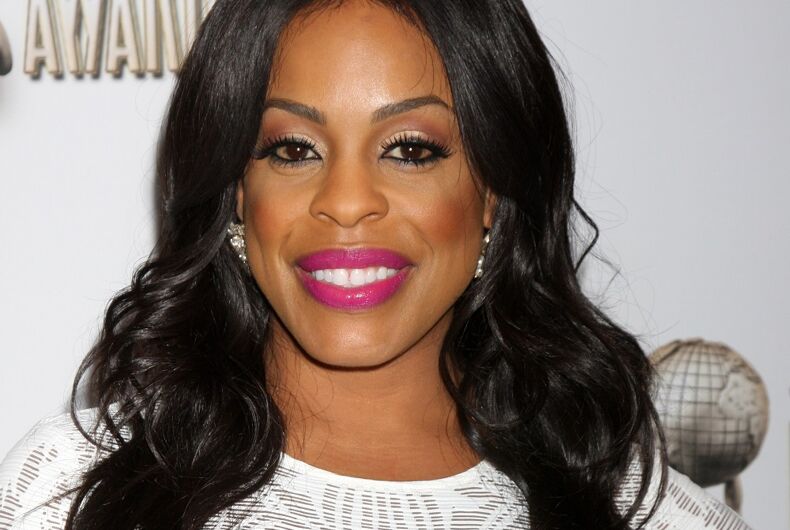 Niecy NashPhoto: Shutterstock
Emmy Award-winning actor Niecy Nash talked to Ellen DeGeneres about her sexual identity now that she's got a "hersband."
Nash, who is best known for her roles on Reno 911!, Getting On, Selma, and Claws, as well as for hosting the interior design show Clean House, married musician Jessica Betts last year after two previous marriages to men. She had not come out as gay or bisexual or pansexual prior to that.
Related: Rapper Da Brat comes out in an emotional video & introduces her girlfriend to fans
Even when she announced her marriage to a woman, that's all she announced.
"Now you say that it's you didn't really come out you went within yourself," Ellen said.
"You called her my wife. I lovingly called her my hersband," Nash said about her butch spouse.
When Ellen asked if Nash was Betts's hersband, she said no, she's Betts's wife.
Then she got into her identity.
"A lot of people say, 'Oh you came out.' And I said, 'Well, from out of where?'" she explained.
"I wasn't anywhere to come out of. I wasn't living a sexually repressed life when I was married to men. I just loved them when I loved them.  And now I love her yeah."
Nash went on to talk about how her daughter tried to help her put a label on her sexuality.
"My daughter, the youngest one, she made me sit down to watch a program. She said, 'Mom you got to know how you identify.' I said, 'Oh I do?'"
"So we watched this whole thing about, you know- And it was a thousand different things you could have called yourself," she said. "But when I got through watching it, She was like, 'Well, what are you?' I said, 'Confused?' I'm more confused than ever!"
"I was like, 'I don't know, I'm Black and I'm your mama. Now go sit down.'"