North Korea's only gay defector finds love in America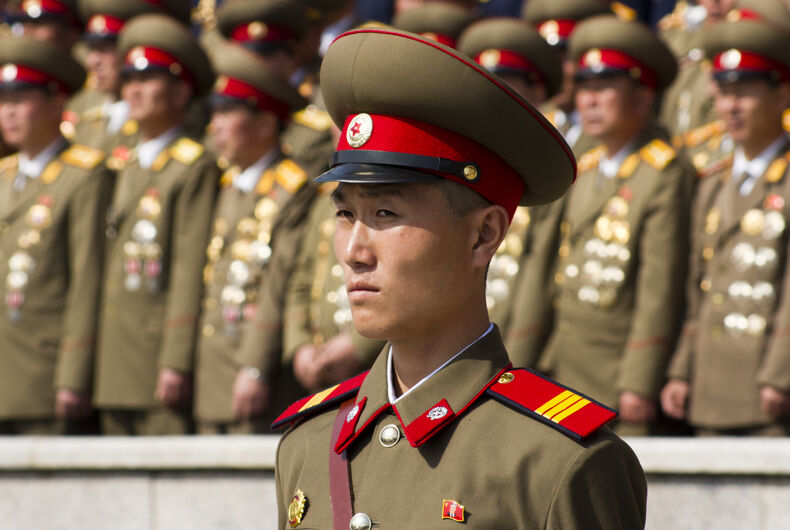 APRIL 2012 : North Korean soldier at a military parade in Pyongyang celebrating the 100th birthday of the late North Korean leader Kim Il Sung.Photo: Shutterstock
Jang Yeong-jin is the only known gay man to defect from North Korea. That's why he left.
His daring escape made international news and shed light on how homosexuality is perceived in the dictatorship. But years later, Jang has finally found love in an unlikely place – the U.S.
Related: Trans woman makes history by winning cisgender Nevada beauty pageant
Jang didn't have any concept of gay men until he reached South Korea, he says. He initially shied away from telling security forces why he was defecting until eventually telling authorities that he felt no attraction to women and would bring disgrace on his family.
Jang was given conversion therapy in multiple hospitals and says he met other men there who were like him. A fumbling (and declined) pass made at a friend pushed him over the edge. He ran before his family could find out.
"I went to so many hospitals in North Korea because we thought that I had some sort of physical problem."
"There is no concept of homosexuality in North Korea," he says. If someone is seen running to greet another same-sex friend, it's assumed that's just because they have such a close friendship. In fact, adults of the same sex often hold hands in the street," he told the BBC. "North Korea is a totalitarian society – we have lots of communal life so it's normal for us."
After crawling through the demilitarized zone to safety in South Korea, Jang eventually realized he was a gay man, but still found fitting in difficult after years in the dictatorship.
"When I saw that, I knew right away that I was this kind of person. That's why I couldn't like women."
The brutal regime, however, punished Jang's family when they couldn't reach him. Several relatives were banished to a freezing village in the north of the country to perform hard labor. Six of his relatives, including his mother and four siblings, died there from illness and hunger.
Jang's love life after his defection hasn't been smooth sailing either. While he has heard that his former wife has remarried, he is filing paperwork of his own to make sure their marriage is dissolved.
He needs it so he can marry his Korean-American boyfriend that he met on a dating site. While America may be the totalitarian regime's biggest enemy, Jang has always been willing to take a chance.
But when he arrived, he wasn't impressed with his suiter, Min-su. Then the coronavirus lockdown hit; Jang and Min-su were stuck quarantining together.
"The more I got to know this man, the more I could see that he had a very good character," Jang admits. "Although he is eight years younger than me, he is the kind of person who likes to care for others first."