Number of trans murder victims grows as two Black trans women are gunned down a week apart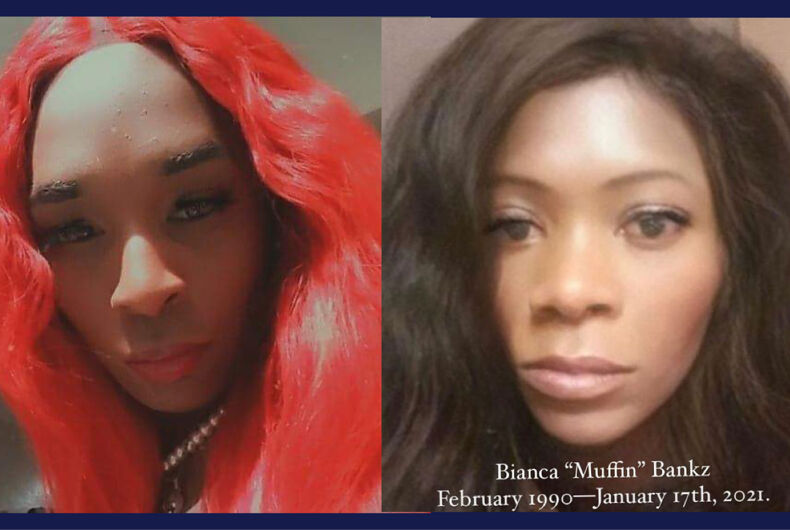 Dominique Jackson (left) and Bianca Bankz (right)Photo: Facebook/Instagram
A trans woman's murder in Mississippi — and her misgendering in reports of her murder — serve as a reminder of the serious realities of being trans in America, even under a new Presidential administration.
Another trans woman's murder in the Atlanta metro area a week prior has devastated LGBTQ communities as well.
Related: Puerto Rico declares state of emergency over murders of multiple transgender people
Dominique Jackson — not to be confused with the actress of Pose and American Gods fame — was driving their car when they were shot and crashed on January 25th.
Jackson was behind the wheel of her car at around 9:30 P.M. when she suffered the gunshot wound and crashed into a utility pole near the Poindexter Park Historic District, not far from Jackson State University. She was pronounced dead on the scene.
The department misgendered her in both announcements about the incident and her death. Local media reports reiterated the police information, reporting her deadname as well.
Jackson's death was one of three apparent violent deaths in the area on the night of January 25 that police are also investigating.
She was reported missing two days prior to her death. Posts from apparent friends and family suggested that she had been with an unknown man before her whereabouts became unknown. The timeline between her activities that night and the night of her death remains to be established.
Known for her red hairstyles, she was also active in the Mississippi chapter of the Human Rights Campaign (HRC). The national organization released a statement in her memory.
"Dominique was an important and valued member of her community, where she will be greatly missed," said Tori Cooper, the Director of Engagement for the HRC's Transgender Justice Initiative (TJI). "In just one month, we have already recorded multiple deaths of transgender and gender non-conforming people in the U.S.," she added.
"This is unacceptable. We need everyone in the LGBTQ community and our allies to speak out against this violence and take action to stop it. We will continue fighting for justice for all trans and gender non-conforming people."
HRC adds in its statement that "in an injustice compounding this tragedy, Dominique was misgendered in media and police reports. Anti-transgender stigma is exacerbated by callous or disrespectful treatment by some in the media, law enforcement and elected offices," adding that they offer resources for both media and law enforcement dealing with trans people "in the pursuit of greater accuracy and respect."
Our hearts are heavy as we learn of the death of Dominique Jackson, a trans organizer who co-founded BreakOUT! in New Orleans. Dominique was found in Jackson, Mississippi. We are holding communities in New Orleans and Jackson in our hearts today as we grieve this loss.

— TransgenderLawCenter (@TransLawCenter) January 29, 2021
She was already the third known violent death of a transgender or gender non-conforming person in the year of 2021. PGH Lesbian Correspondents reports that she is the second Black trans woman reported to meet a violent death this year.
Bianca Bankz was the fourth known trans or gender non-conforming person to be killed, and the third Black trans woman.
Bankz, also known as 'Muffin', had just moved into a new home near the Bankhead area of northwest Atlanta. Multiple gunshots were heard on Sunday, January 17. Responding police officers found Bankz and another man dead.
Police and other sources have indicated to Planet Transgender that this was a murder-suicide, with "friends say[ing]… her life was taken by a man in her home, who ultimately took his own life."
TaSheena Brown, a senior police officer in the Atlanta Police Department, stated that "[Investigators] are not looking for any outstanding people of interest in this case. This was not random and is not a threat to the public."
Bankz was 31 and a former foster child that had recently begun transitioning, and had dreamed of becoming a contestant on RuPaul's Drag Race. The Trans Housing Coalition, which supported her in moving into her own apartment, is now paying for her funeral.
Local LGBTQ website ProjectQ.us reports this is the sixth murder or questionable death of a trans or gender non-conforming person in Georgia since March 2020. Bonaire "Bonnie" Black, Kimberely Patricia Cope, Felycya Harris, KaKedius "Rebel" Reid, and Scottlyn Kelly Devore, have all also died either violently or suspiciously in the last year. Black, Cope, Harris and now Bankz's deaths have all been reported since November.