Out Black lesbian Odessa Kelly will challenge moderate congressman in 2022's must-watch primary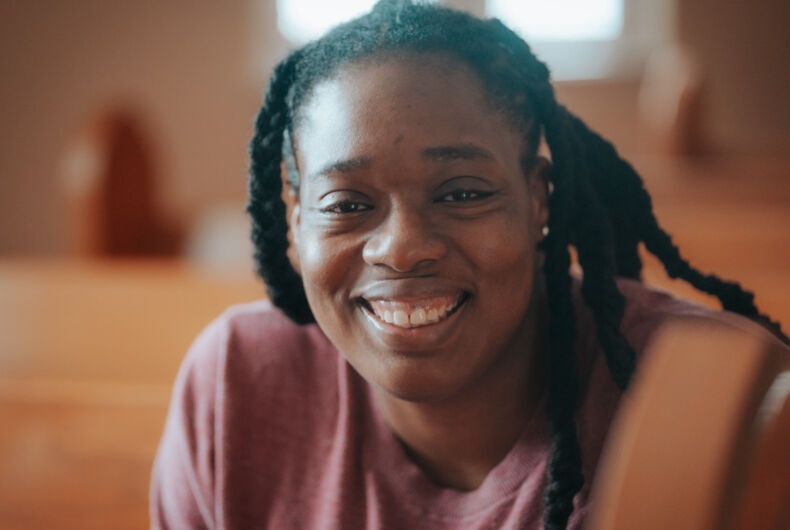 Out Congressional candidate and organizer Odessa Kelly.Photo: Odessa Kelly for Congress
Odessa Kelly officially announced her intent to run for Congress in 2022. If elected, she would be the first out Black woman elected, the second Black lesbian to serve in the House, and only the sixth out woman to serve in Congress.
Even more, she's attracting a lot of attention from powerful supporters, including the progressive group that helped Rep. Alexandria Ocasio-Cortez (D-NY) win an upset victory against a moderate Democrat incumbent. Kelly will face off against Rep. Jim Cooper (D-TN) for his seat representing Tennessee's fifth district.
Related: House Democrats seek to adopt resolution honoring & uplifting Black queer leaders
Cooper, 66, has won nine consecutive elections, winning his seat in 2002. He previously represented Tennessee's fourth congressional district from 1983 to 1995. The 2023-2025 term would be his 15th.
He is a pro-LGBTQ representative, having supported marriage equality for years. He is a current co-sponsor of the Equality Act and he sent letters challenging the Trump administration's ban on trans people in the military, and the Health and Human Services Department's anti-LGBTQ policies. He voted for the Matthew Shepard Hate Crimes Act and voted to repeal "Don't Ask, Don't Tell." The Human Rights Campaign gave him a 100 rating this year on his Congressional scorecard.
Cooper, however, is also a moderate member of the center-leaning Blue Dog Democrats Coalition. Outside of support for social causes, many of Cooper's votes are often against his own party. In 2009, he and ten other Democrats voted against then-President Barack Obama's economic stimulus package. He has worked with Republicans to attempt Social Security benefit cuts and caps to Medicare and Medicaid spending.
He also co-sponsored a proposed constitutional amendment that "would deprive the federal government of the ability to deficit-spend, including during a recession," HuffPost reports. He has opposed universal healthcare since the Clinton administration, although he has been more open to recent Medicare for All efforts.
Cooper has been a target for progressive activists for years, but now they have a candidate who has a chance of winning.
Kelly, 39, is a co-founder of Stand Up Nashville, a community non-profit that she has served as executive director for the last 14 years. "Odessa has organized diverse coalitions and already delivered for Nashville — now she's ready to take the fight to Congress," her website states.
Our city ain't working for all of us. Teachers, nurses, civil servants, working moms and dads — we can't buy a home here.

My faith has taught me that our fates are tied together.

I'm running for Congress because we deserve a representative who fights as hard as we do. #TN05 pic.twitter.com/wtzqcgYgTW

— Odessa Kelly (@OdessaKellyTN) April 5, 2021
Kelly, a lesbian, calls for passing the Equality Act and denounces anti-LGBTQ discrimination, especially anti-trans discrimination, in her LGBTQ equality platform. She emphasizes that "ensuring the voices of LGBTQ Americans are represented in every policy conversation" is important to her campaign.
"People are tired of being told what they can't do or what is not possible. People want to be inspired," she said to New York magazine.
"As a person of color, as an African American, the more diverse this country gets, we're tired of always being told to wait for the next time or wait for the next moment. The moral, right way to do things is to do it when you know there is an urgent need to do it.
"Why not now? This time is as good as any."
Justice Democrats, the progressive group that supported the successful campaigns of Rep. Alexandria Ocasio-Cortez (D-NY), Jamaal Bowman (D-NY), Cori Bush (D-MO) and others, recruited and issued their first endorsement for the 2022 cycle for her.
Alexandra Rojas, their executive director, said, "Our grassroots movement has shocked the nation in two cycles and we are prepared to do it again. It's time to usher in a new generation of progressive leadership into the Democratic Party."
Kelly would become only the second Black LGBTQ woman to serve in Congress, and only the fourth Black LGBTQ person of any gender.
The late Rep. Barbara Jordan (D-TX), who served from 1973 to 1979, was outed when her domestic partnership was revealed in her obituary. Until this year, Jordan was the only LGBTQ Black person known to serve in Congress — Reps. Mondaire Jones (D-NY) and Ritchie Torres (D-NY), who are both out, started serving in January.
Five other LGBTQ women have served in Congress since Jordan: Tammy Baldwin (D-WI), Kyrsten Sinema (D-AZ), Angie Craig (D-MN), Sharice Davids (D-KS) and Katie Hill (D-CA). All were elected to the House; Baldwin and Sinema have since won election to the Senate, where they currently serve. Craig and Davids remain in the House and Hill resigned in 2019 after a relationship with a staff member was unveiled.
This campaign is about Nashville.

It's about telling a story about Nashville that most people don't get to hear.

It's about telling a story about everyday, hardworking people who have something to say.https://t.co/BNLvouEjmz

— Odessa Kelly (@OdessaKellyTN) April 5, 2021