Out Rep Mark Takano knows anti-Asian bias attacks show "the long reach of Trumpism"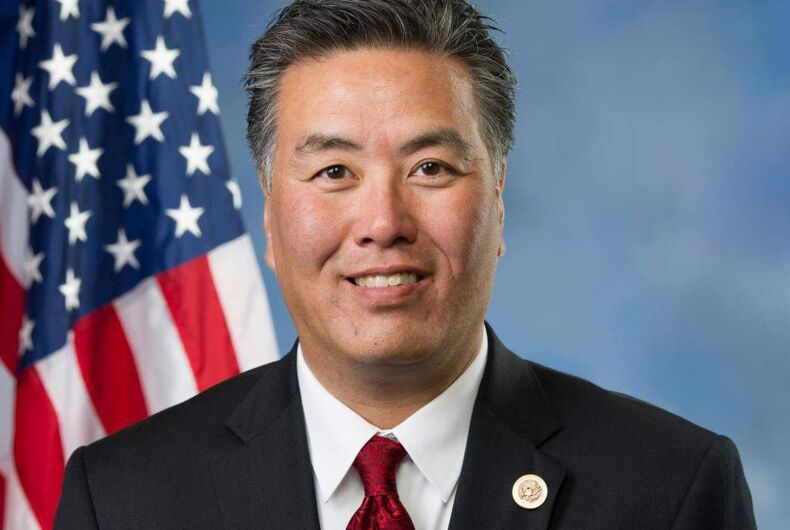 Congressman Mark Takano of California's 41st DistrictPhoto: Official Congressional Portrait
When Rep. Mark Takano (D-CA) decided to visit the sites of the anti-Asian shootings in Atlanta, the response on social media was swift—and revealing.
"As I was saying I was going to comfort families and uplift victims, there was an immediate response," Takano tells LGBTQ Nation. "I had one person say, 'You're going to visit brothels on taxpayer money.'"
Related: Why aren't people talking more about the dramatic rise in hate crimes against Asian Americans?
As the first out gay Asian-American member of Congress, Takano is uniquely aware of the rise of anti-Asian violence plaguing the country. Eight people died in the Atlanta shootings, six of them Asian women, which took place at three separate massage businesses.
The suspect in the shootings, Robert Aaron Long, was raised in a conservative evangelical family and claimed the shootings were an attempt to rid himself of sexual temptation.  Long told authorities that the attack was not racially motivated, a claim that FBI Director Christopher Wray has echoed.
Takano says that the denial of bias flies in the face of reality.
"Let's look at the fact that six out of the eight people killed were Asian, and all three businesses were Asian-owned," Takano notes. "Shouldn't we look at the actions as being more sentient to the facts" than the suspect's claims?
Moreover, having visited the shooting sites, Takano knows just how targeted the attacks were. The distance between the location of the first shooting and the second and third locations is 27 miles, an hour's drive in Atlanta traffic.
"He had plenty of opportunities to go to non-Asian business to work out his sex demons, but he went to two other Asian businesses," Takano notes. "There's a mixture of misogyny and anti-Asian women issues going on."
Certainly, stereotypes continue to be used to justify anti-Asian (and anti-LGBTQ) violence.
"We need to recognize that the ways in which history refers to Asian women as submissive and hypersexual has justified Western attitudes about them and dehumanized them," Takano says.
The urge to be willfully blind to the obvious motivation for hate crimes is hardly new. The murderers of Matthew Shepard in 1998 insisted Shepard's death was a robbery gone wrong.
"For the LGBTQ community, Matthew Shepard's murder was a hate crime," Takano says. "People see with their own eyes what happened. He was basically crucified."
Takano says that the rise in bias attacks is the inevitable result of the Trump presidency. Even with Trump out of office, Takano says that Trump's naked appeal to racist and anti-LGBTQ groups paved the way for the current violence the nation is seeing.
Trump continuously branded COVID-19 the "China flu," thus pinning the blame of the pandemic on an entire race by extension. Anti-Asian hashtags on social media climbed when he did so.
"Trump and Trumpism go after people who are vulnerable and can be scapegoated," says Takano. "They can be burdened with the resentments and the anger of Americans who feel aggrieved."
Unfortunately, with his front row seat in politics, Takano doesn't see that problem fading any time soon.
"We're dealing with the long reach of Trumpism," he says. "Even though Trump is gone as president, we have people—Republicans exclusively as far as I can tell—that want to continue Trumpism."
Takano points to the parade of Republicans trekking to Mar-a-Lago to pay homage to Trump and seek his endorsement.
"I jump at the moment to lay anti-Asian sentiment on Trump, but I don't think there's that much difference between the mainstream Republican Party and Trump," says Takano. "There's not much difference in the way they're behaving."
As an example, Takano points to the GOP attacks on transgender people.
"They are the vulnerable party, and they are being made into the villain in the Republican narrative," he says. "That's the perverse logic. It's this reverse Trumpian logic that the strong prevail over the weak, the preying upon the vulnerable in our country."