Out senator Kyrsten Sinema's favorability ratings are tanking & everyone knows why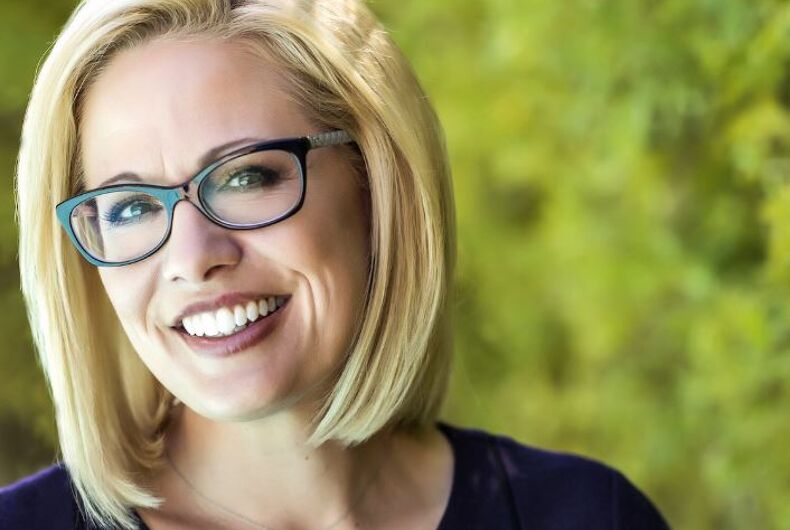 AZ Senator Kyrsten SinemaPhoto: Campaign website
Out Sen. Kyrsten Sinema (D-AZ) is paying a steep price for her stance in favor of an old Senate procedural maneuver that imperils LGBTQ civil rights legislation and other progressive priorities. Sinema is the only out bisexual senator.
But her recent attempt to look "bipartisan" isn't gaining her new Republican fans; it's losing her Democratic support.
Related: Arkansas legislature passes bill to allow EMTs & doctors refuse to treat LGBTQ people
While serving in the Arizona state legislature and her earliest runs for federal office, Sinema positioned herself as a progressive proud member of the LGBTQ community. Since being elected to the Senate, she's consistently tried to craft an image as a "maverick" in the vein of deceased Sen. John McCain (R-AZ).
OH Predictive Insights's most recent Arizona Public Opinion Pulse polling shows support for the senator dropping like a rock. Although the results were within the margin of error, the poll shows that her unfavorable ratings now outweigh positive reviews of her performance.
Forty percent of respondents had an unfavorable opinion of Sinema. Thirty-nine percent viewed her favorably. The margin of error is 3.7%.
Only 50 percent of Democrats give Sinema a thumbs up now and 30 percent view her unfavorably after her opposition to raising the federal minimum wage despite campaigning to increase it and her staunch support for the filibuster.
Even worse, liberal democrats – the most energized portion of the Democratic base currently – are losing faith. Less than half have a favorable opinion of her now.
With the Senate evenly divided, Sinema's support for landmark progressive priorities like civil rights legislation, increasing the minimum wage, and infrastructure repair and investment is critical. Republicans, however, can force the Senate to require 60 votes to proceed to an actual vote. While Democrats have the ability to change the rules – allowing them to pass legislation with only 51 votes since Vice President Kamala Harris (D) would break the tie vote.
Sinema has opposed killing the archaic racist remnant of previous Congresses despite knowing that civil rights protections for LGBTQ people hang in the balance. While LGBTQ activists and donors have dutifully supported her campaign previously, many are now wondering if they shouldn't waste their time.
"Sinema, like John McCain and Barry Goldwater before her, is acting like a maverick," said OH Predictive's Chief of Research Mike Noble. "Those two lions of the Senate bled support from their own party but attracted plenty of independent voters to ensure reelection every six years. Sinema must hope she can do the same."