Patti Harrison is the first trans actor in a Disney film in the new "Raya & the Last Dragon"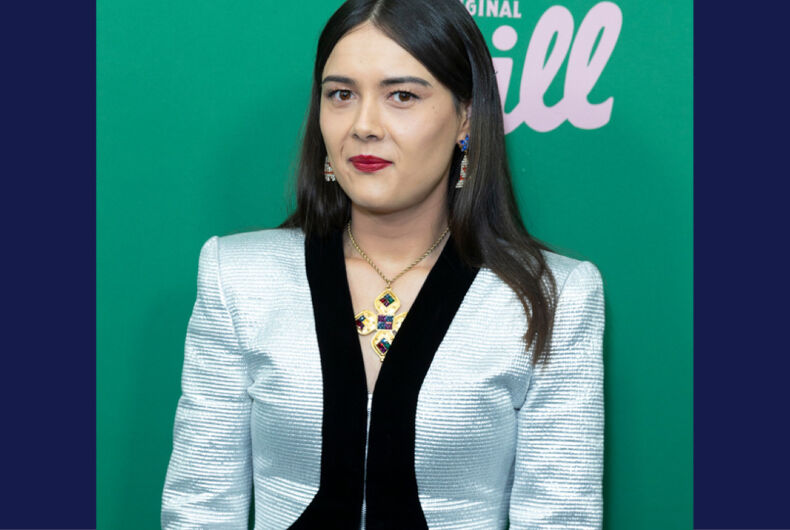 Patti Harrison attends New York Hulu Shrill premiere screening at Walter Reade Theater of Lincoln Center on March 13, 2019Photo: Lev Radin/Shutterstock
Disney's Raya and the Last Dragon starring Kelly Marie Tran, Awkwafina, and Daniel Dae Kim came out this past weekend, and it is raking in millions from returning theater-goers and at-home streamers. Delayed due to the pandemic, the film is currently being enjoyed by critics and fans alike.
The animated film, which has a mostly Asian and Asian-American cast, also marks a first for a Disney Animation film: comedian Patti Harrison lends her voice to the character Tail Chief, making her the first known trans actor in the company's 59-film history.
Related: The gay secrets behind the classic TV sitcom "Bewitched"

The movie is set in a fictional universe called Kumandra, and opens with five tribes: Heart, Talon, Spine, Fang, and Tail. Harrison is the chieftess of the Tail tribe.
According to Out Magazine, "She's only there for one scene and has just a couple lines," but people are still taking a positive outlook to the progress she's making in the Disney universe. It was only last year that Pixar included an out lesbian character played by Lena Waithe in Outward, which was also only for one scene but led to outlash by anti-LGBTQ activists.
Fans of Raya and the Last Dragon are also pondering if the relationship between the lead female characters, Raya and Sisu — played by Tran and Awkwafina, respectively — is a romantic one.
Tran, at least, can believe so. She told Vanity Fair, she sensed "some romantic feelings there."
"I think if you're a person watching this movie and you see representation in a way that feels really real and authentic to you, then it is real and authentic," Tran said. "I think it might get me in trouble for saying that, but whatever."
Harrison, born in 1991, is known for co-hosting the show Unsend with Joel Kim Booster and for being a writer of the Netflix series Big Mouth since the fourth season, its most recent. She is also in the film Together Together, which recently premiered at Sundance Film Festival.
Harrison's previously appeared on the Tonight Show with Jimmy Fallon as a correspondent. There, she notably had words for the Trump administration after the former president banned trans people from serving openly in the military. She's also appeared in the TV shows Search Party, Broad City, Bojack Horseman, and The History of Swear Words.
She has also apparently became the first actress to appear in a Disney film while her Twitter account is suspended. Inspired by the "trans people exist" tweet by Oreo, she pretended to be the Twitter account of Nilla Wafers "claiming that she was Sia doing a social media takeover" which led to what looks to be a temporary removal of her account.
Raya and the Last Dragon has a 96 percent rating on Rotten Tomatoes and an audience score of 85 percent. It's also grossed $8.6 million (including home sales) so far.