Pete Buttigieg is selling his Indiana home. A cabaret is already planned for the house.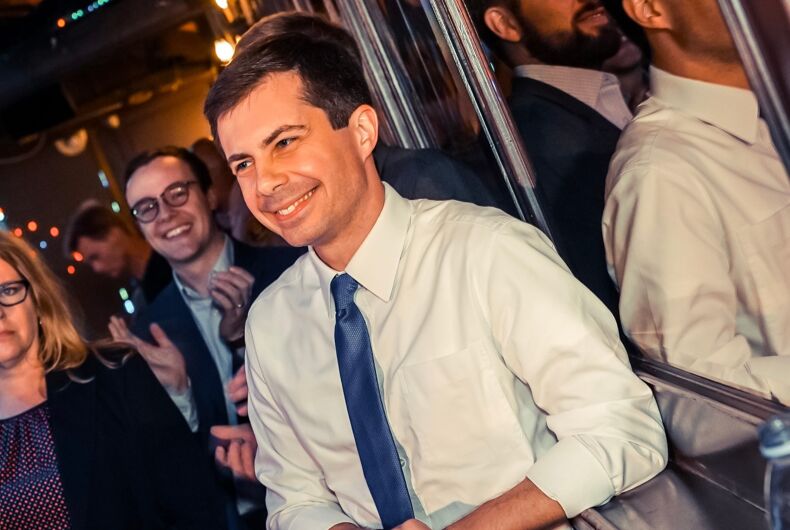 Mayor Pete Buttigieg At The Abbey in West Hollywood May 2019Photo: Shutterstock
Secretary of Transportation Pete Buttigieg is selling his and his husband's home in Indiana to someone who is already planning to host cabaret shows in the house.
"South Bend is always going to be home to me," Buttigieg told the South Bend Tribune. "But as a practical matter, we realized that it was time for the house to change hands."
Related: Chasten Buttigieg's story of being outed at work has Twitter sharing their own stories
The former mayor of South Bend and his husband have moved with their dogs Buddy and Truman to an apartment in D.C. and have decided it isn't feasible to keep their home in Indiana even though they have a "lot of memories there."
"This is where I'll be most of the time and we needed to find a place here, and we're finding that a dollar doesn't go quite as far as it does back home," he said.
Washington, D.C. has one of the highest rental prices in the country.
Aaron Nichols, the executive director of South Bend Civic Theatre, has purchased the home and he is already planning on hosting an online cabaret show in the 2500 square-foot home in May.
"I'm excited to be investing in South Bend and to have a place where the Civic can celebrate its successes," he told the Indy Star. "It's a beautiful historic home, and I'm proud to be investing in South Bend's history and future."
Buttigieg bought the home over a decade ago for $125,000 when he was working in Chicago for McKinsey & Co. He later took out a second mortgage to pay for repairs. The house was recently assessed at $255,000 for tax purposes. The price of sale is not known.
He joked about how the house was a "money pit."
"Yet the house drew me in," Buttigieg wrote in his memoir Shortest Way Home. "This house had good bones, as they say, and just needed a little work. There was a fireplace, not working but salvageable. No one had painted most of the wood inside, including paneling in the hall. Its beauty was faded but not destroyed, and even the textures of its decay were appealing, like the irregular painted flooring of the small back porch."
One of the policies that Buttigieg was known for as mayor was tearing down abandoned homes in the city that were often owned by wealthy, coastal financiers. So it makes sense for the new D.C. resident to understand the cost to the local community of leaving the house vacant.