Pete Buttigieg says taxing drivers by the mile "shows a lot of promise"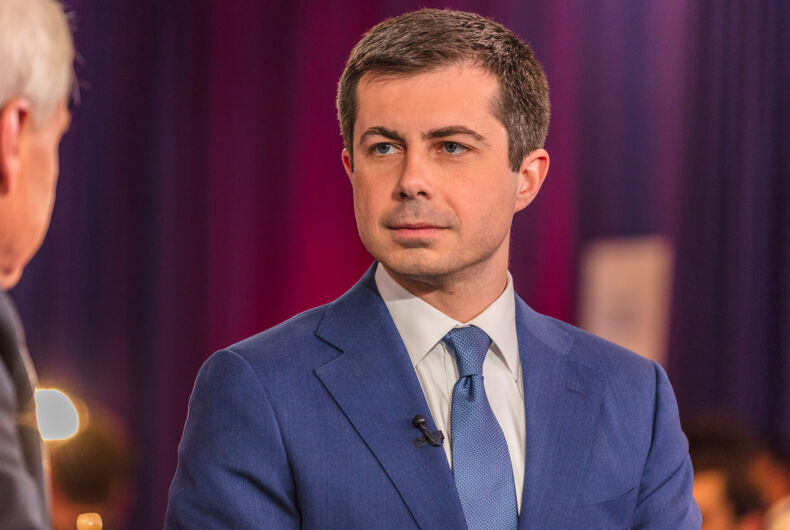 Mayor Pete Buttigieg being interviewed during the Presidential Debate in Las Vegas, Nevada on February 19, 2020. Photo: Joseph Sohm / Shutterstock
Secretary of Transportation Pete Buttigieg signaled support for a vehicle miles traveled (VMT) tax, which could replace the gas tax in order to fund highways.
"I think that shows a lot of promise," he said on CNBC, "if we believe in that so-called 'user pays' principle – the idea that part of how we pay for roads is you pay based on how much you drive."
Related: Pete Buttigieg biking home from work has the internet in a frenzy
He said that the gas tax "used to" be how that principle was implemented, but that a VMT tax could replace that since fuel-efficient vehicles and electric cars have led to dwindling highway funds.
Transportation Secretary Pete Buttigieg says taxing drivers by the mile "shows a lot of promise" and could be a way to fund a big infrastructure overhaul. pic.twitter.com/fkI5nWt7sr

— The Recount (@therecount) March 26, 2021
The idea of a VMT has been raised before – Obama administration Secretary of Transportation Ray LaHood said that it's an idea "that should be looked at."
The Highway Trust Fund pays for federal highways and it's supposed to be financed by the federal gas tax, which is currently set at 18.4 cents per gallon for gas and 24.4 cents per gallon of diesel fuel.
But the tax rates have not been adjusted for inflation since 1993, meaning that the rates have decreased in real terms, while cars have gotten more fuel efficient. Since 2008, the fund has been insolvent and Congress has transferred tens of billions of dollars of tax money to it to maintain roads.
Still, the VMT remains unpopular, in part due to privacy concerns since it requires some sort of GPS monitoring system to track how much people are driving, and partly for the same reason raising the gas tax is unpopular: drivers don't want to pay more for the service they're using.