Pete Buttigieg sworn in as the first out Cabinet Secretary in touching ceremony with Kamala Harris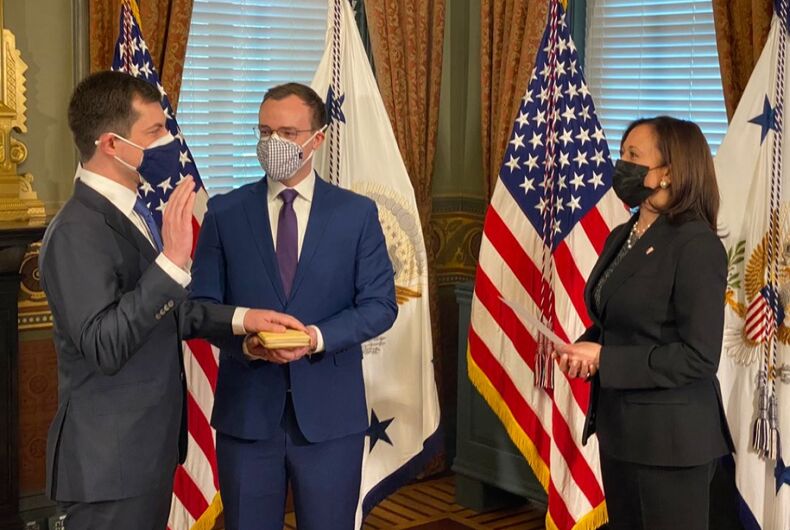 Pete Buttigieg getting sworn in by Kamala Harris with Chasten Buttigieg by his side.Photo: Office of the Vice President
Secretary of Transportation Pete Buttigieg was sworn in by Vice President Kamala Harris this morning in the Eisenhower Executive Office Building – part of the White House complex. Second Gentleman Doug Emhoff and Chasten Buttigieg were also present.
In the masked ceremony, Harris led Buttigieg through the oath as he swore to support and defend the Constitution. Harris cheerfully congratulated him afterward and then elbow-bumped Chasten, because of COVID-19 protocols.
Related: Pete Buttigieg becomes America's first out Cabinet member
Afterward, Pete Buttigieg hugged his husband moments after he became the first out Cabinet Secretary.
On Twitter, Harris's office released photos of the ceremony.
Journalists and photographers in attendance also shared pictures of the historic moment.
In a short ceremony, @PeteButtigieg is sworn in as Transportation secretary—he's the 2nd presidential competitor in Biden's cabinet (winner of Iowa caucuses), and 2nd openly gay member of any president's cabinet. He was sworn in on a Bible, with husband @Chasten at his side. pic.twitter.com/PsS8wElMkz

— Jennifer Jacobs (@JenniferJJacobs) February 3, 2021
"This is our moment to build back better," Buttigieg tweeted right after the ceremony.
After running in the Democratic presidential primary last year and becoming the first out candidate to win a state's primary, Buttigieg went on to become a fierce advocate for the Biden/Harris campaign.
And yesterday, the Senate confirmed him as Secretary of Transportation by a bipartisan vote of 86 to 13.
On Twitter, people appreciated the historic moment.
When I was a closeted teenager in the late 1990s there were no popular openly gay politicians like @PeteButtigieg. Instead, the Gabbards were on TV in Hawai'i saying same-sex marriage is gross and should be illegal. We've come a long way.

— Keola (@MrKeola) February 2, 2021
Thinking of our @PeteButtigieg who is getting sworn in as Secretary of Transportation this morning USA time by @VP Kamala Harris! So very, incredibly proud to be cousin of the first LGBTQ Senate-confirmed member to a Cabinet-level position! BOOT-EDGE-EDGE!!! ?????? pic.twitter.com/gqg0aYKvsA

— NicolaJane Buttigieg (@NicolaButtigieg) February 3, 2021