QAnon Rep claims the U.S. Capitol is evil because they "wipe out male and female" there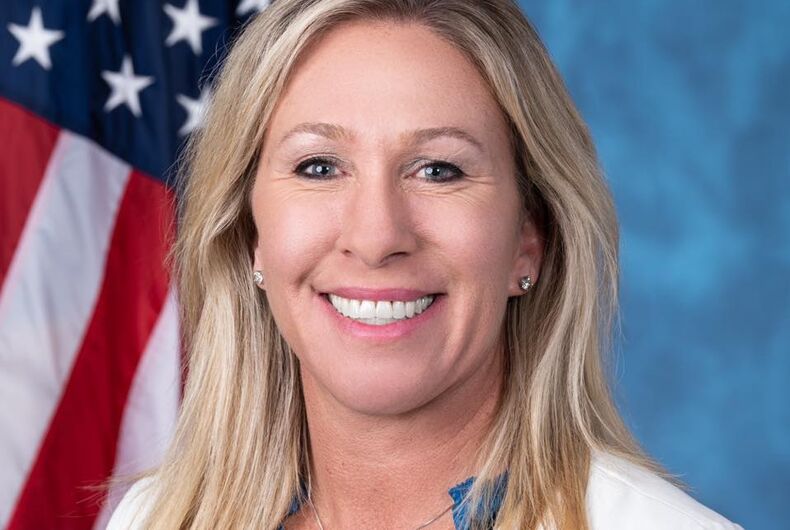 Rep. Marjorie Taylor GreenePhoto: U.S. Congress
Rep. Marjorie Taylor Greene (R-GA) recently came under fire for being one of several Republicans who voted against a bipartisan resolution honoring U.S. Capitol Police officers "and those who protected the U.S. Capitol on January 6, 2021" with Congressional Gold Medals.
At a recent town hall in Georgia, Greene attempted to explain that her vote ostensibly against honoring police officers was due to the "dangerous language" used, such as calling the U.S. Capitol Building "the temple of our American Democracy." Greene claims such a claim is insulting because the Capitol is "one of the most evil places" because people "attack God's creation and wipe out male and female" there.
Related: How drag queen story hour & a boatload of money launched Marjorie Taylor Greene's political career
Greene previously released a video last week amidst the backlash, condemning Speaker of the House Nancy Pelosi (D-CA) and other House Democrats for attempting to "worship government as if government is some kind of God."
"I know for a fact that people back home in my district in Georgia will not give that a stamp of their approval," she said. "We do not believe the Capitol is a temple, so therefore I cannot vote for that."
Before those very constituents in Georgia, Greene was once again explaining her decision and this time, as documented by Right Wing Watch, relied on supposed erasure of gender and support for abortion as reasons why she could not support honoring the police officers.
"I voted no on it, and I want you to know I voted no and I'll tell you why," she said. "They called all the people at the Capitol on January 6th 'insurrectionists,' that's dangerous language in that bill that sets precedence."
She claims that "there were people that were in the Capitol… that didn't go in." Calling them "insurrectionists" is "a very serious charge that affects people for the rest of their life." She criticized others who would "fragrantly call, labelling people, 'insurrectionists,' when they may have done nothing wrong."
Greene once again pointed to the fact that the bill labelled the Capitol a "temple," causing commotion in the room of her constituents. "She thinks that place is a church, and she calls it a sacred place," Greene claims.
"I cannot vote for a bill that calls the Capitol 'a temple.' That is one of the most evil places; horrible things happen there," she said, amid affirmations from the audience. "They attack God's creation and wipe out male and female. It's a place where they make abortion legal and fund it to kill over 62 million people in the womb. That is not a temple. And if it is a temple, God is not in that temple."
The claimed "wipe out" of "male and female" may reference the rules adopted in the House of Representatives this session that remove gendered language in official settings, replacing gendered terms like "chairman" or "chairwoman" with gender-neutral terms like "chair."
Greene has previously relied on anti-trans rhetoric and declarations of "evil" to defend her actions. She alleged that "the so-called #EqualityAct is evil" and in a Twitter tirade, claimed it "has nothing to do with equality. It virtually destroys women's rights and religious freedom."
She also voted against the Equal Rights Amendment, a long-proposed amendment to the U.S. Constitution that says simply: "Equality of rights under the law shall not be denied or abridged by the United States or by any State on account of sex." Greene claimed such an amendment would  "destroy all distinctions between men and women," and "empower the woke feminist mob."
When she was stripped of her committee assignments in a bipartisan vote of the full House of Representatives, Greene used a unique defense for her outrageous behavior: Twitter allows pornography to be posted to their platform, but refuses to allow her to be transphobic.
Greene's stark opposition to the use of the term 'insurrectionists' as a label for people who attacked the U.S. Capitol on January 6th comes after Anthony Aguero, a conservative activist known for his association with Greene, was confirmed to have entered the Capitol building after previously claiming that he didn't, and that he was only observing as an 'independent journalist.'
CNN reports that Aguero and Greene have a long-documented history, and that "in many since-deleted videos saved by CNN's KFile, Greene repeatedly calls Aguero 'amazing' and a 'friend.' On social media, Aguero has called Greene 'one of my closest friends.'"
12 other House Republicans voted against the resolution introduced by Speaker Pelosi, and five did not cast a vote. The resolution was still overwhelmingly passed and adopted by the House.
It calls for awarding three Congressional Gold Medals: One for the United States Capitol Police to display at their headquarters, another for the Washington D.C. Metropolitan Police Department, and another for the Smithsonian Institution to display anywhere, in addition for a plaque in honor of the police departments involved in protecting the Capitol that day.
It has been referred to the Senate where it is before the Committee on Banking, Housing, and Urban Affairs chaired by Sen. Sherrod Brown (D-OH).
Rep. Louis Gohmert (R-TX) drafted a proposed separate resolution that honored police officers who responded in defense of the U.S. Capitol, including officers that died, but does not specifically honor their actions on January 6th — and makes no mention of January 6th or how those police officers died.